ONCE UPON A TIME …
During our original visit to Eldraine, we focused on the Royal Courts and their role in the plane. This knightly image of Eldraine was a fan favorite. We're returning to this plane in Wilds of Eldraine, but it's a tad different. Eldraine is still a land of beauty and splendor, filled with enchanting prairies and valiant heroes.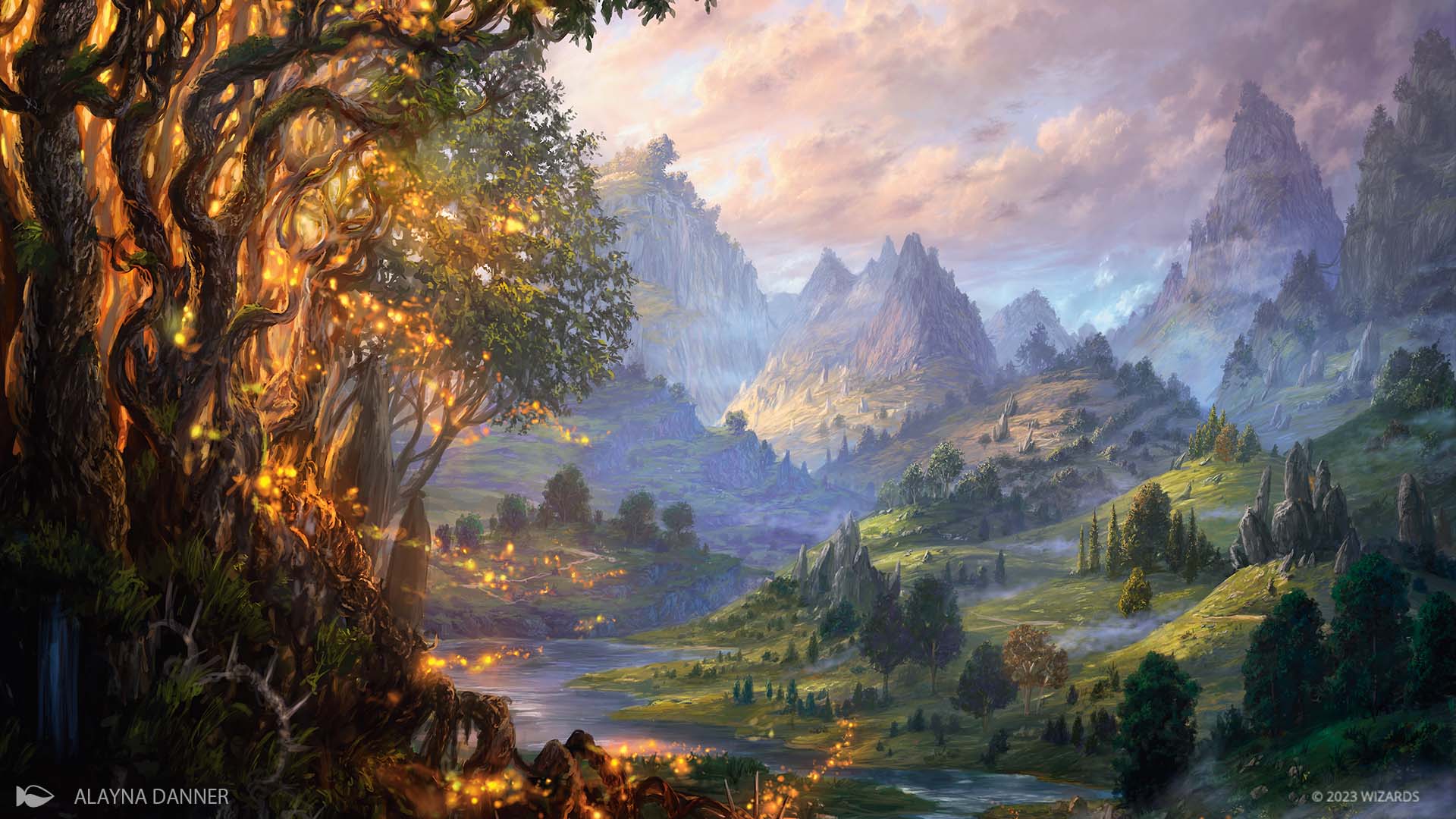 Art by:

Alayna Danner
But now, we're venturing beyond the castle walls and into the wilds. These mysterious woods are full of strange creatures, wild beasts, and arcane magic. Wilds of Eldraine captures the mystique of these lands, inviting the player to discover what secrets may lie in the wilds.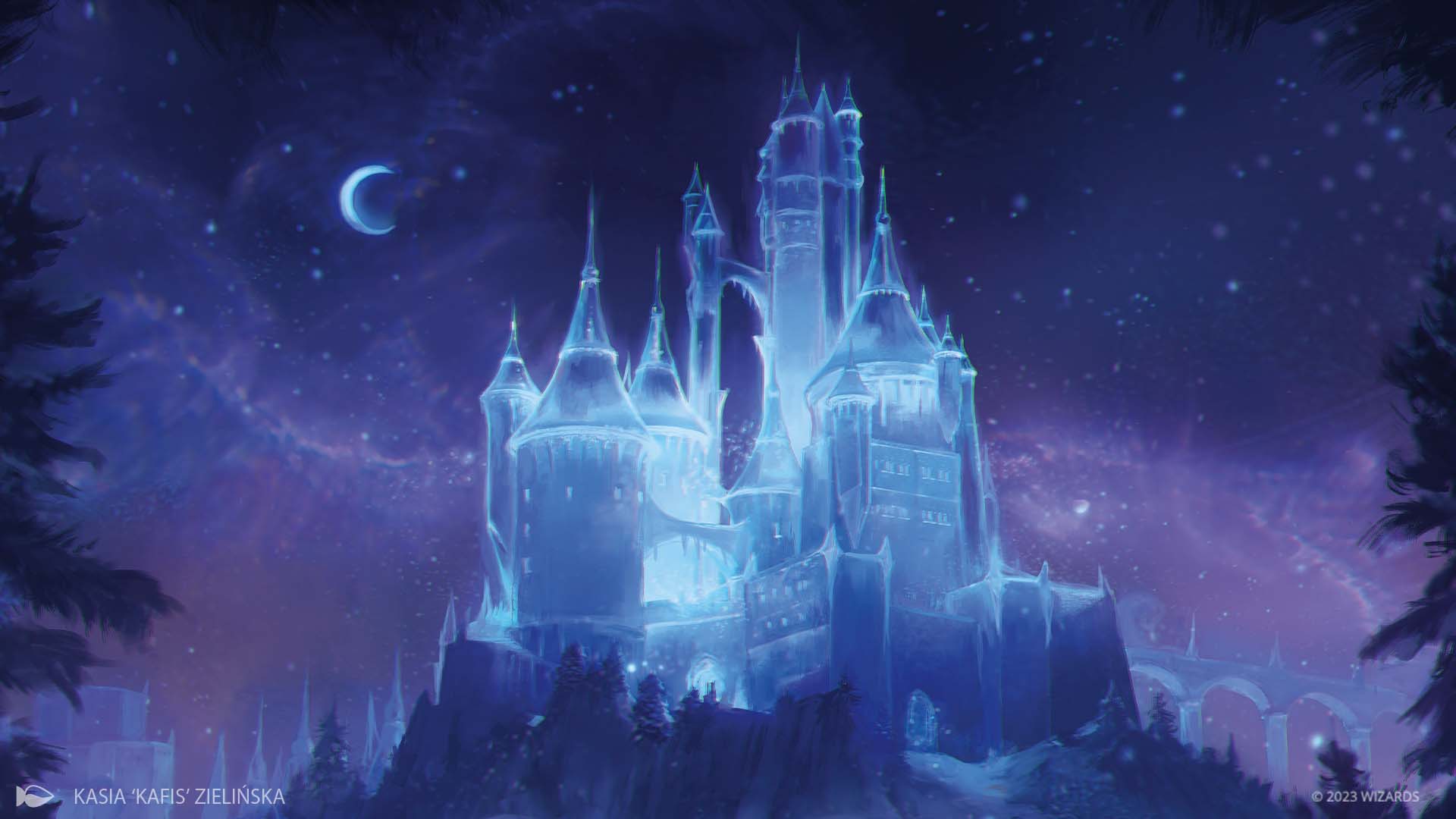 Art by:

Kasia 'Kafis' Zielińska
During the Phyrexian invasion, a curse called the Wicked Slumber fell upon the land. As the curse lulled the Phyrexian forces into a harmless sleep, this seemed to be the plane's salvation. However, it has now become their curse as the people of Eldraine have also begun to fall into a deep slumber.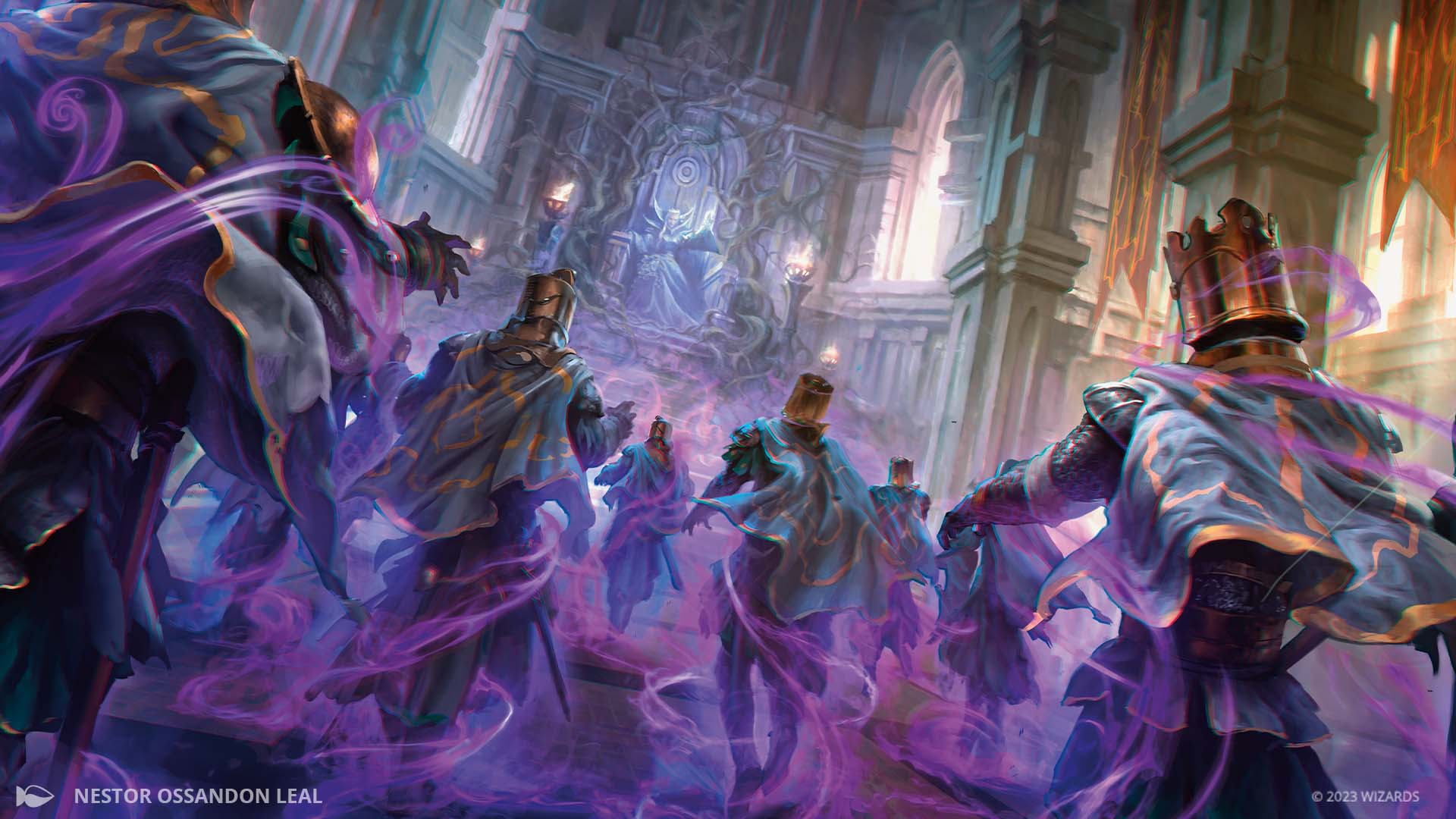 Art by:

Nestor Ossandon Leal
When designing Wilds of Eldraine, we wanted to capture the sensation of magic existing all around you. You'll see this on a large scale, like the Wicked Slumber seizing the population, or with something as simple as some fae trickery.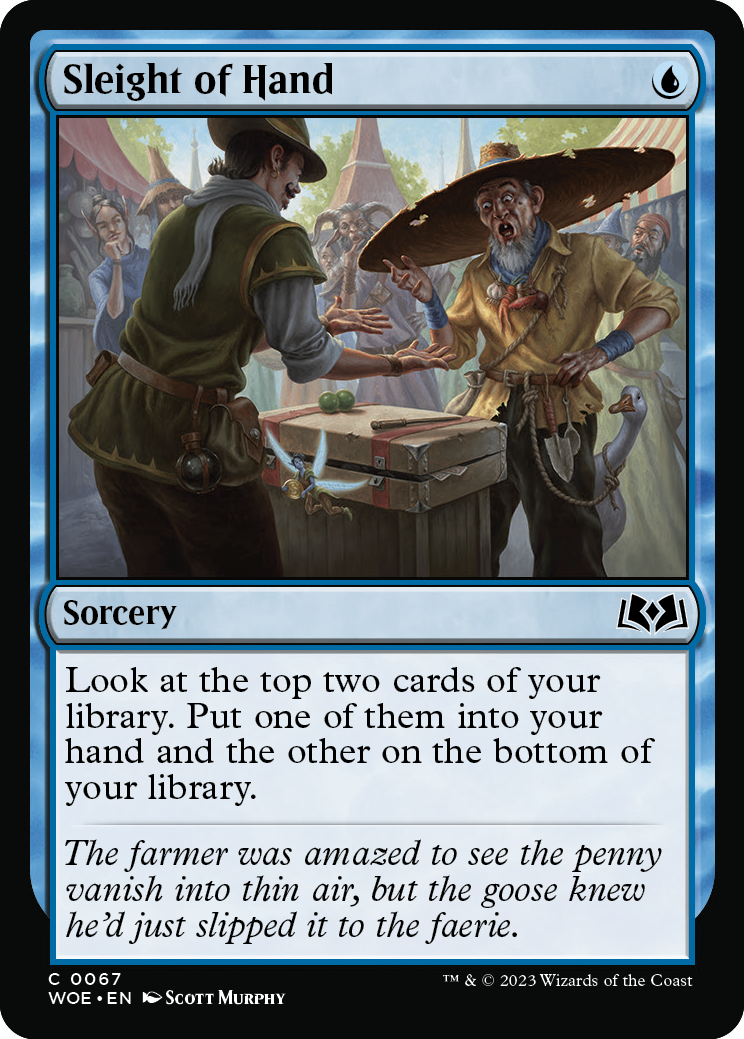 Sleight of Hand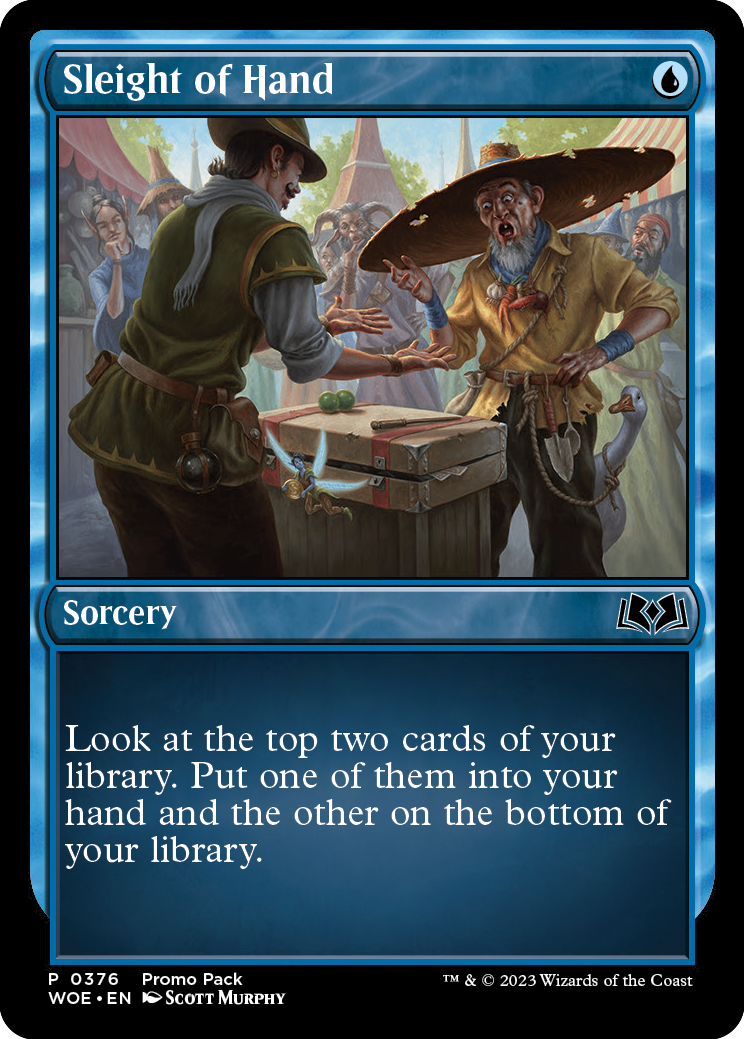 Sleight of Hand FNM Promo
This curse was placed upon the land by Talion, the Fae Lord of the Wilds and three witch sisters. Originally meant to protect the plane from the forces of Phyrexia, the Wicked Slumber has grown beyond their control. Now, the people of Eldraine worry that the day may come when they are all trapped in this unwaking sleep.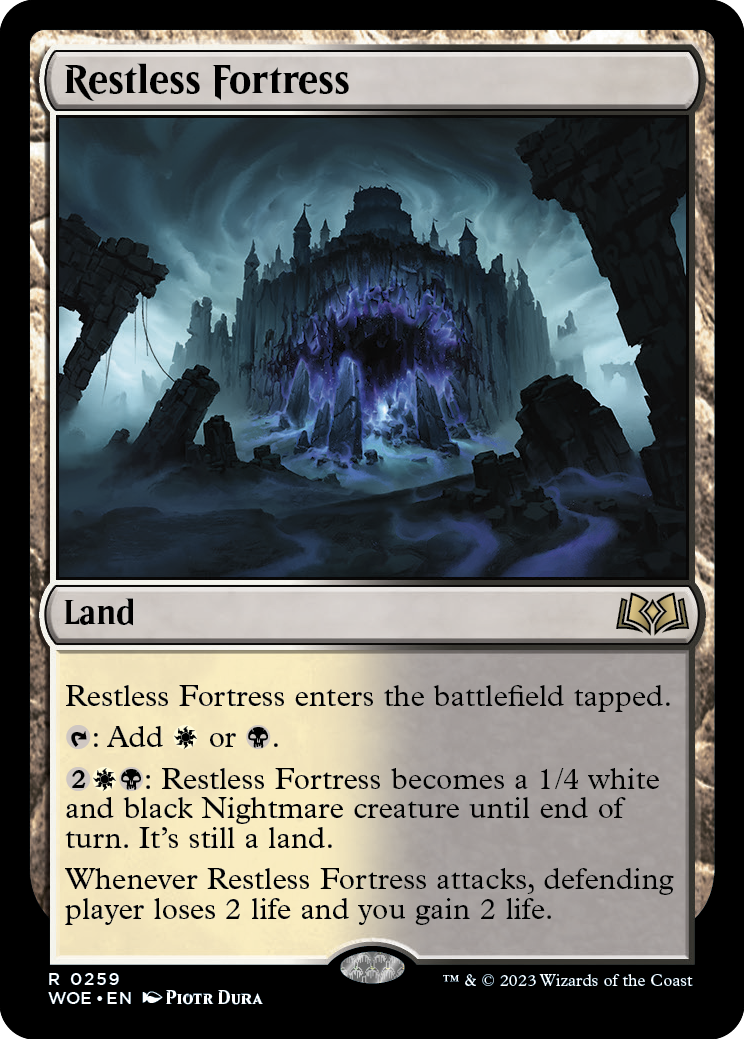 Restless Fortress
THE CHARACTERS OF WILDS OF ELDRAINE
Our story begins with Talion, the Kindly Lord. While they are the ruler of all Eldraine's fae, they also serve as the mysterious protector of all of Eldraine's people. During the Phyrexian invasion, Talion was forced to join with three witches to create the Wicked Slumber, a curse which now affects their child.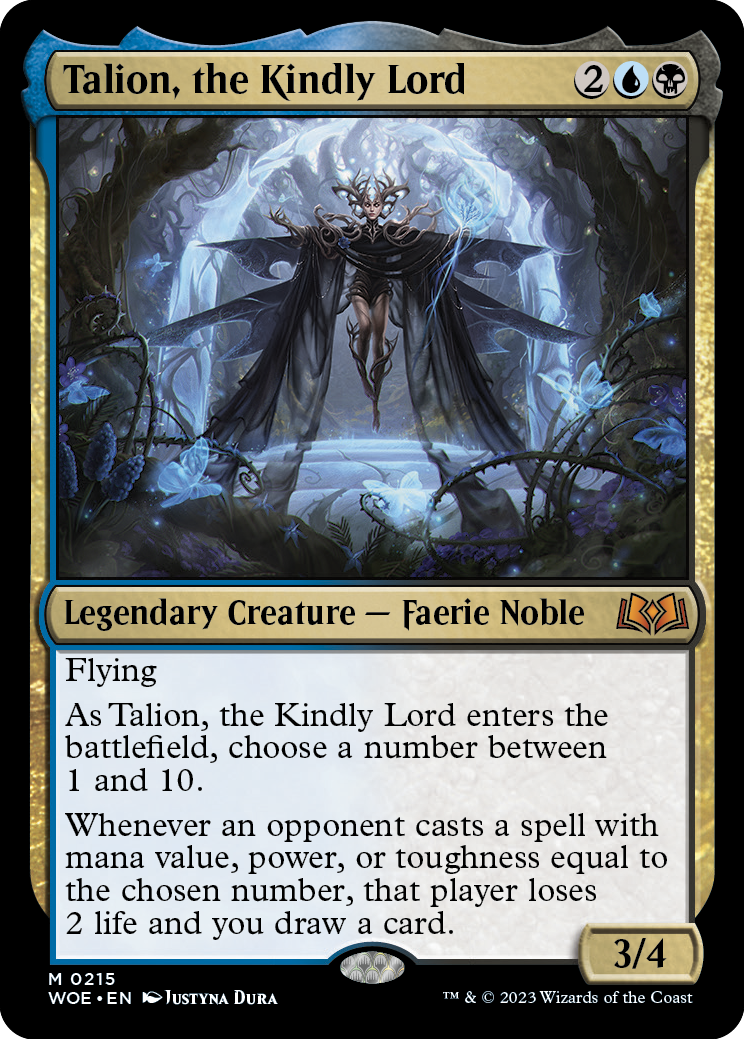 Talion, the Kindly Lord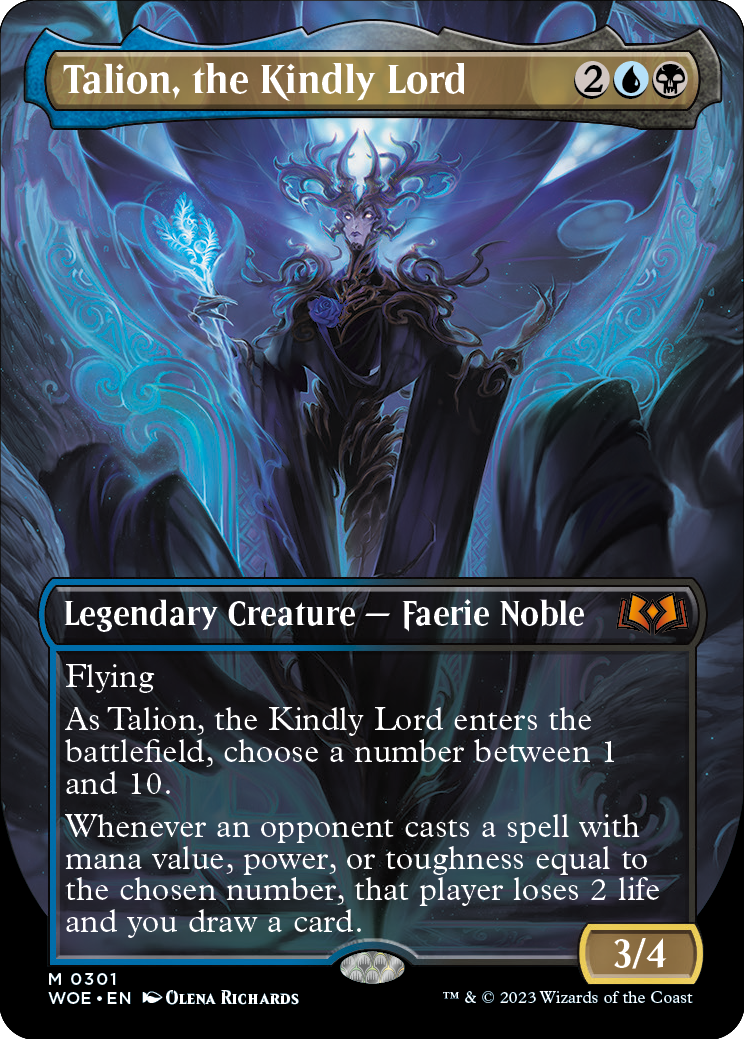 Talion, the Kindly Lord (Borderless)
Where there are nightmares, Ashiok is sure to be close by. With an entire kingdom's worth of nightmares to prey upon, they're ready to unleash their magic, no matter the cost.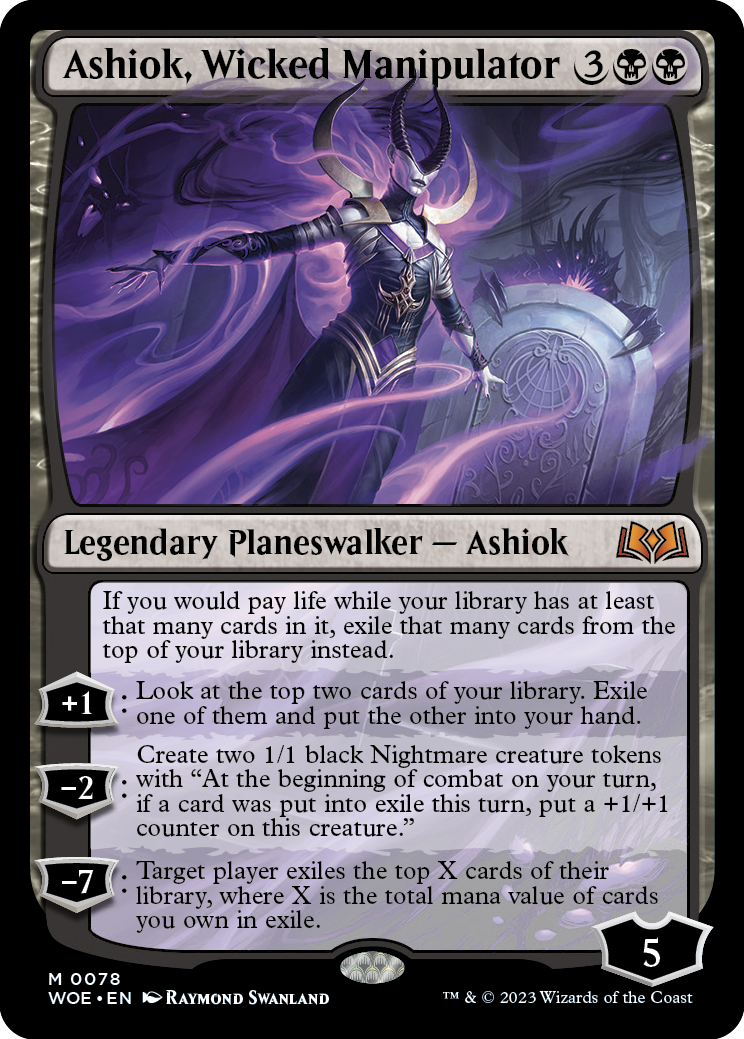 Ashiok, Wicked Manipulator
We'll also be meeting some new faces during our visit. Kellan is a new character, one who will be taking up Talion's quest to end the Wicked Slumber. Kellan, Lord of the High Fae, has been tasked with bringing peace and salvation to his people.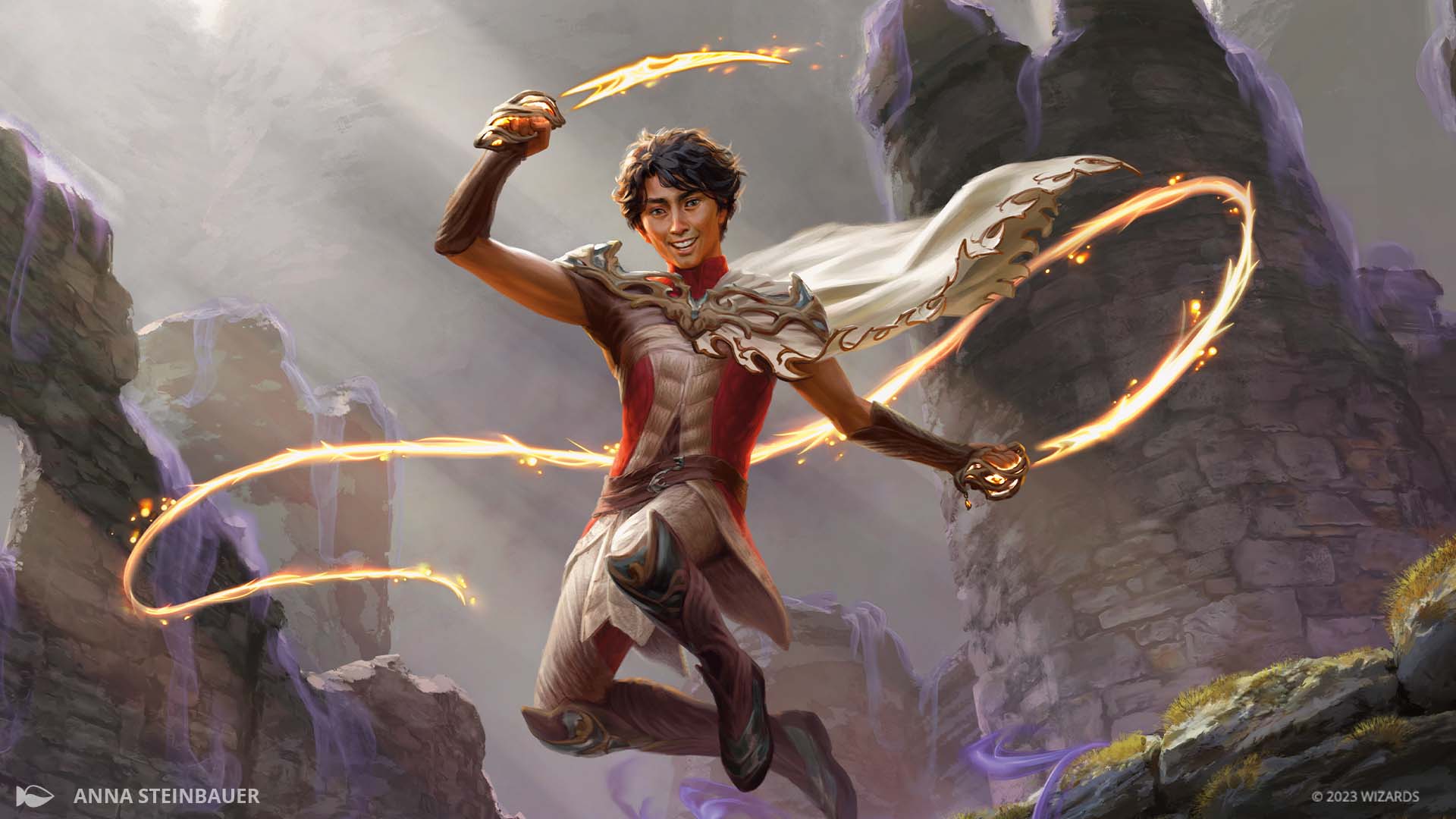 Art by:

Anna Steinbauer
Will and Rowan make a return in this set, though under much different circumstances. During the Phyrexian invasion the twins lost both their parents. Following that, Will and Rowan have lost their sparks and are left to hold the kingdom together, a challenge that may push them beyond their limits.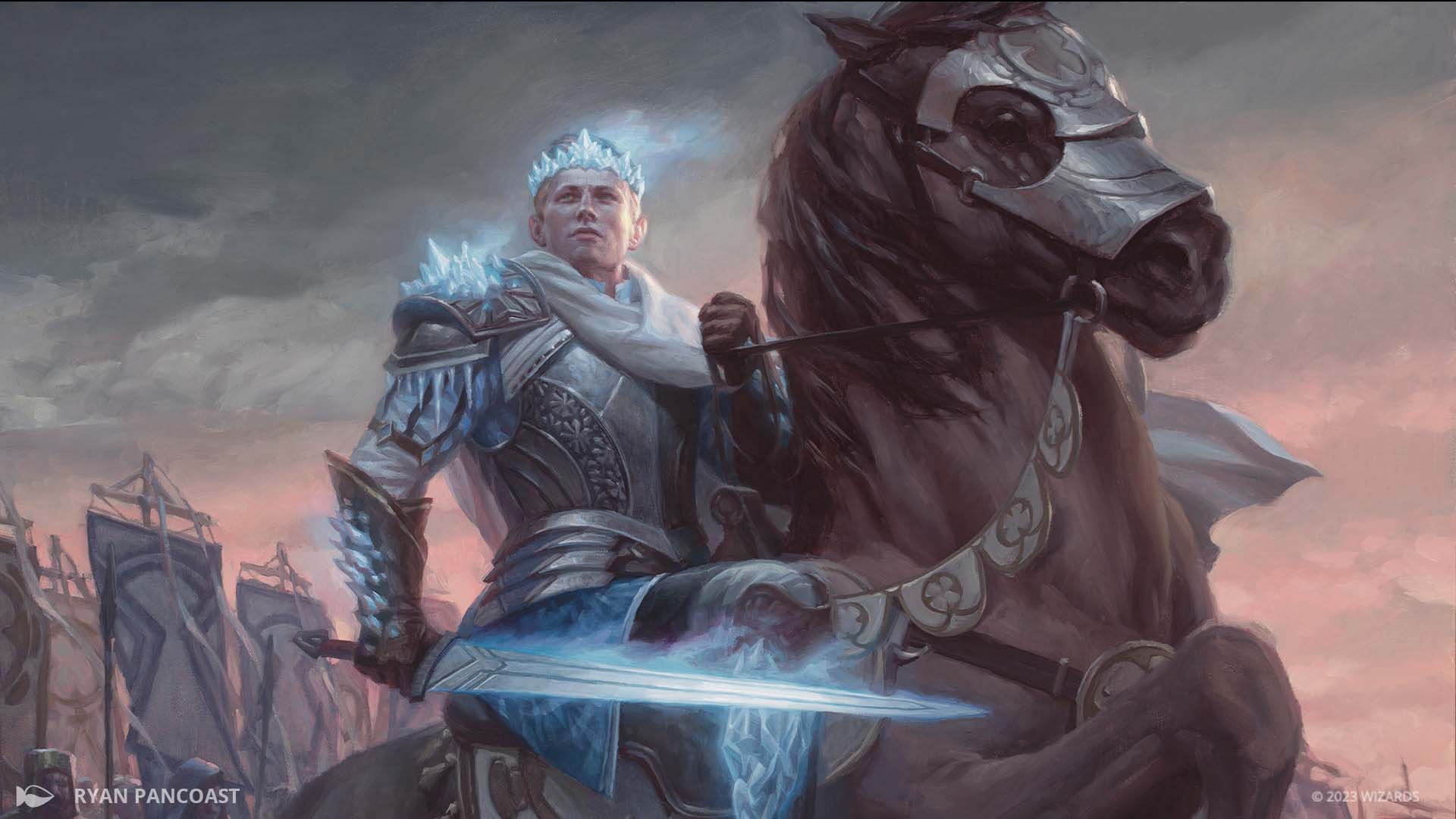 Art by:

Ryan Pancoast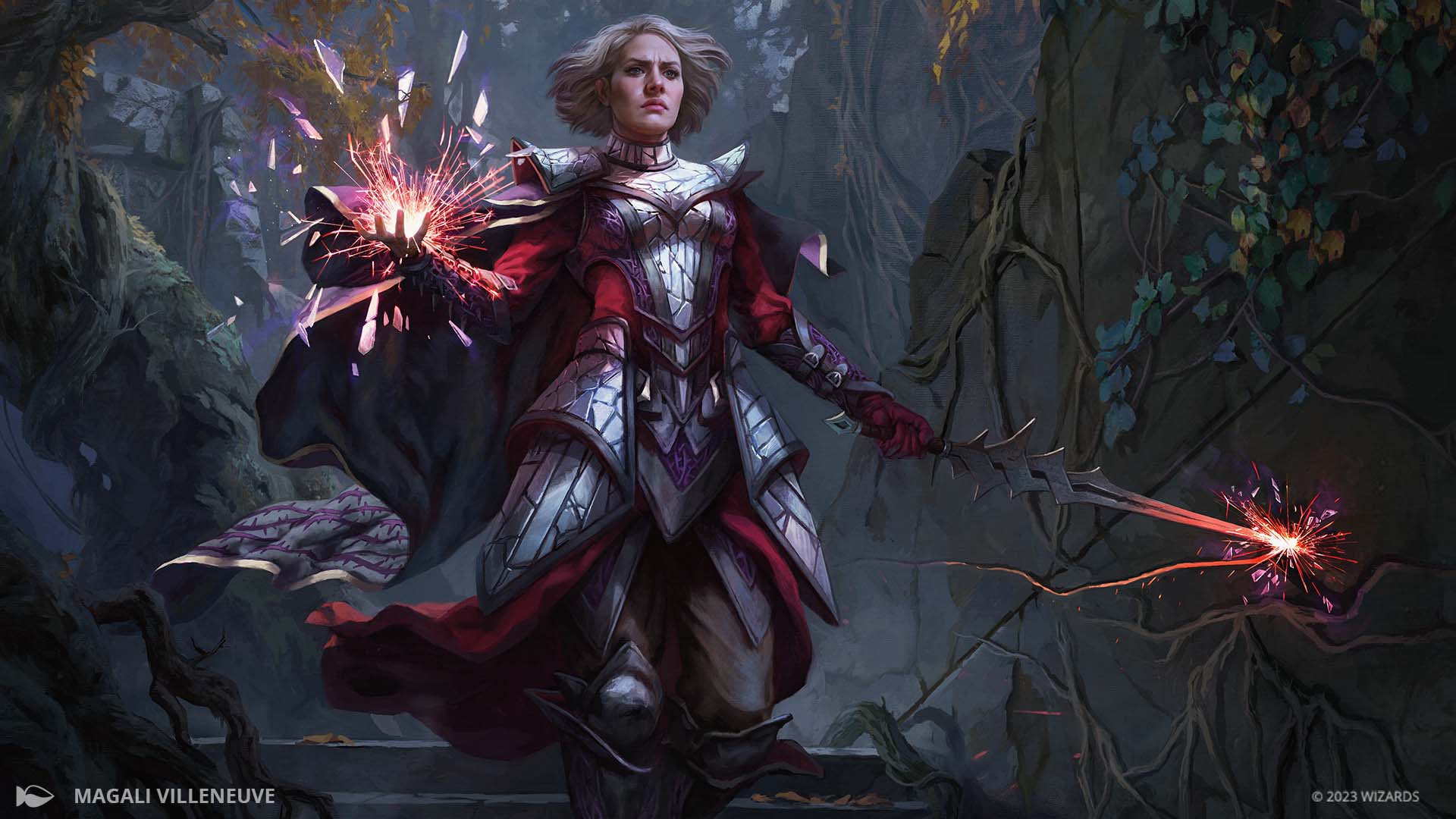 Art by:

Magali Villeneuve
And of course, we couldn't return to Eldraine without the beloved Syr Ginger, along with Tough Cookie to round out this sweet group of heroes.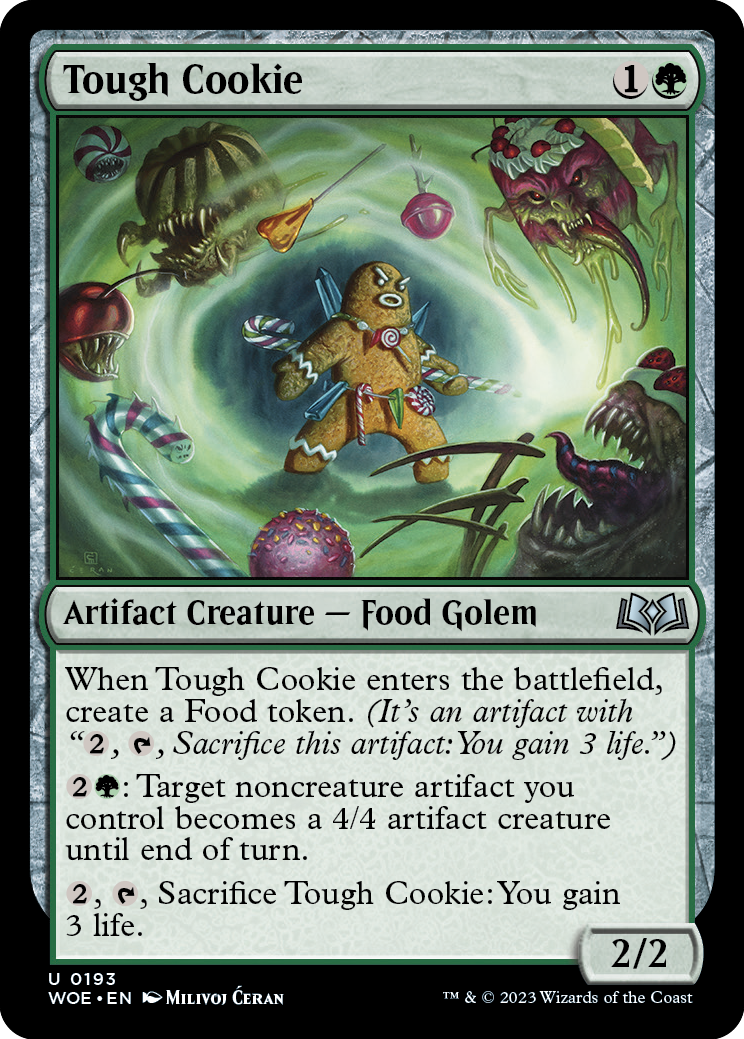 Tough Cookie
A NEW STORY OF MAGIC UNFOLDS
The knights who repelled the invasion—both those gone to seed as mercenaries and those yet clinging to valor—call Will the Boy King. And, no matter how much she wishes it were otherwise, Rowan cannot blame them.
—"Pure of Heart" by K. Arsenault Rivera
As the curse of the Wicked Slumber seizes the people of Eldraine, tension escalates between the Kenrith twins. Elsewhere, an ancient force from deep within the wilds calls upon a young half-fae boy who has yet to understand what it means to be a hero.
Discover how this fairy tale is told when the five-part Wilds of Eldraine story begins on August 8—right here on DailyMTG!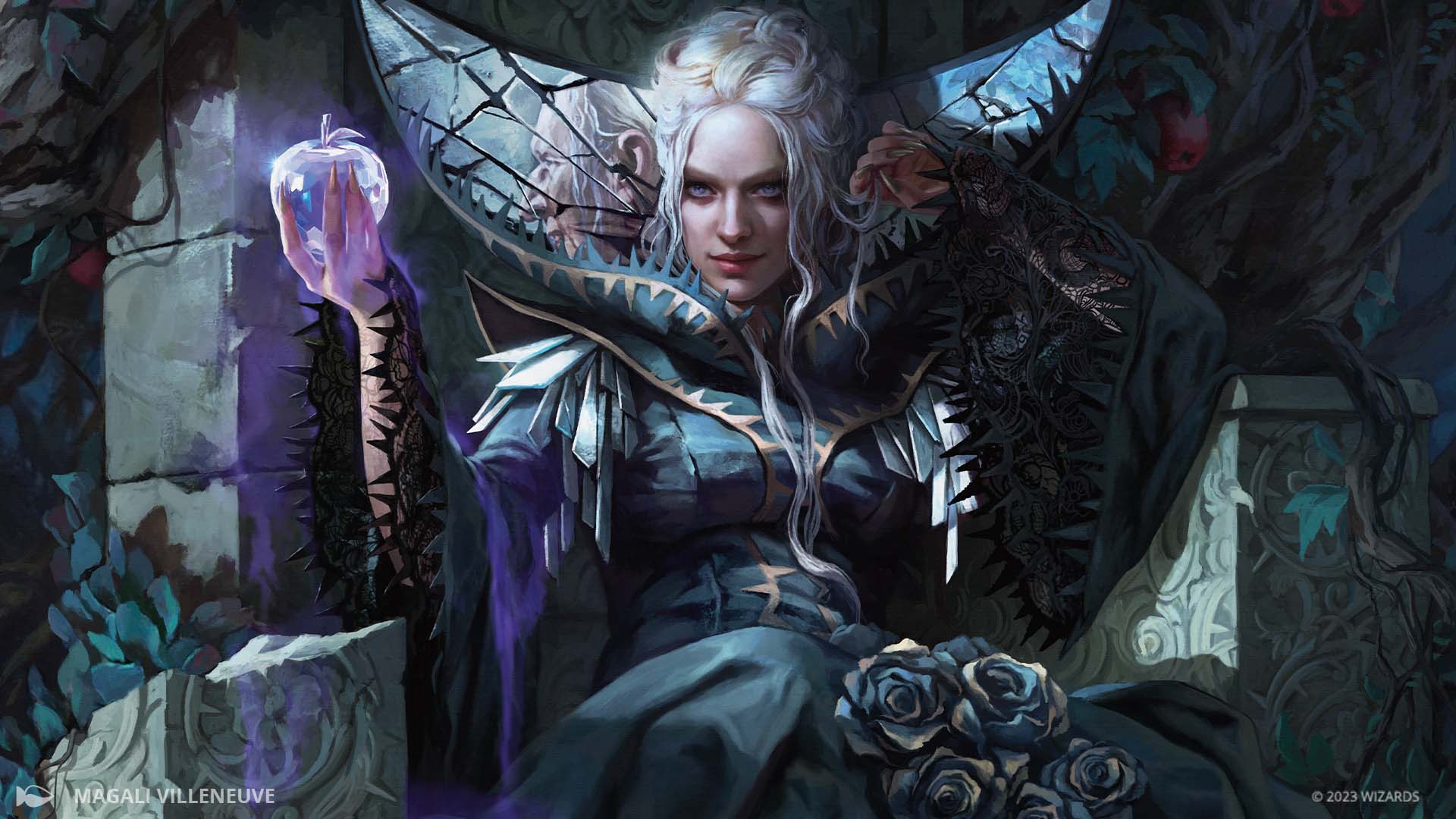 Art by:

Magali Villeneuve
FAIRY TALES AND BOOSTER FUN
Wilds of Eldraine blends its fantastical characters with equally stunning artwork. Our team of artists worked to deliver an aesthetic that feels like it popped straight out of a book of fairy tales. You'll be able to find art depicting the many loveable heroes and dastardly villains of Eldraine.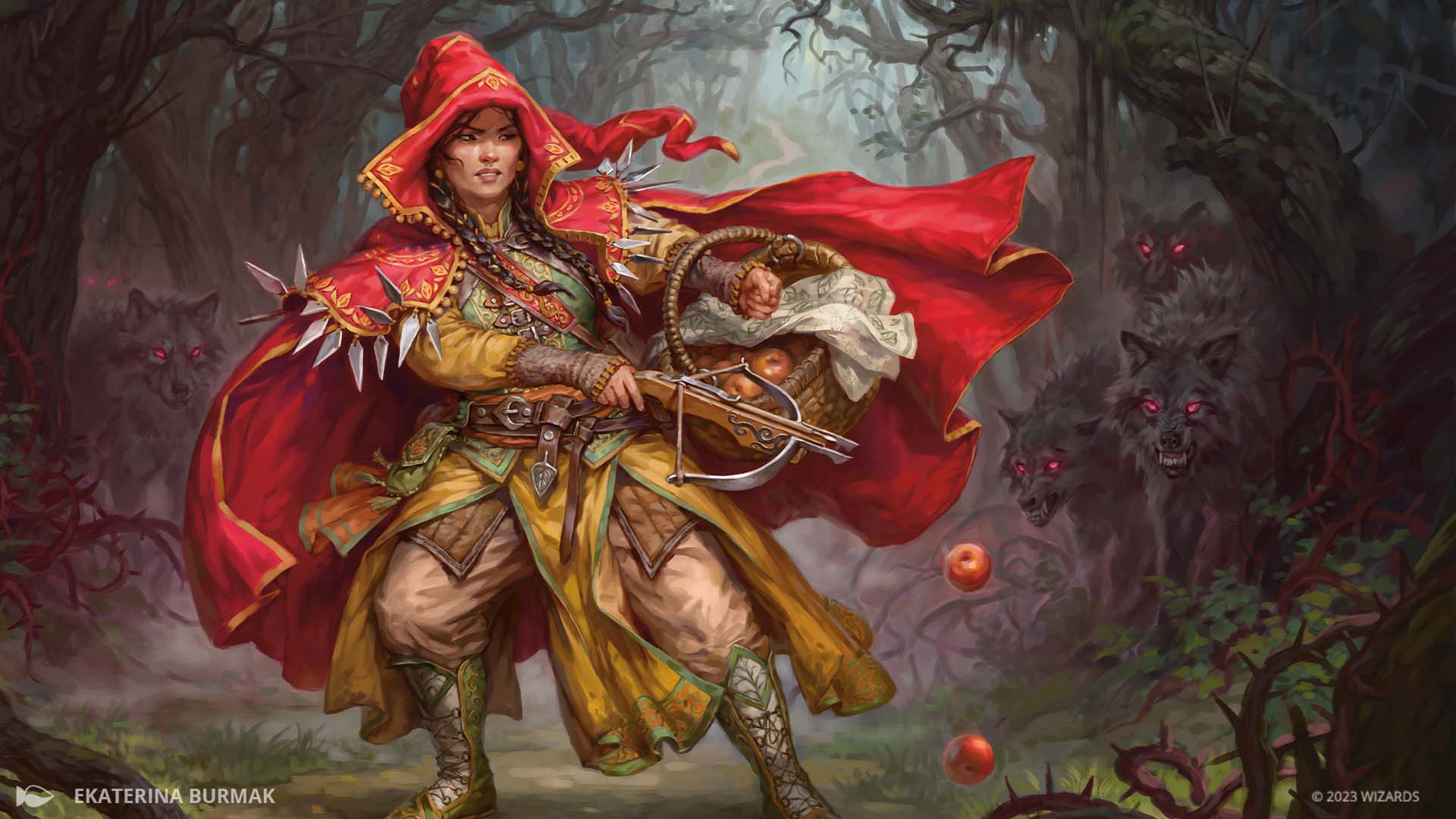 Art by:

Ekaterina Burmak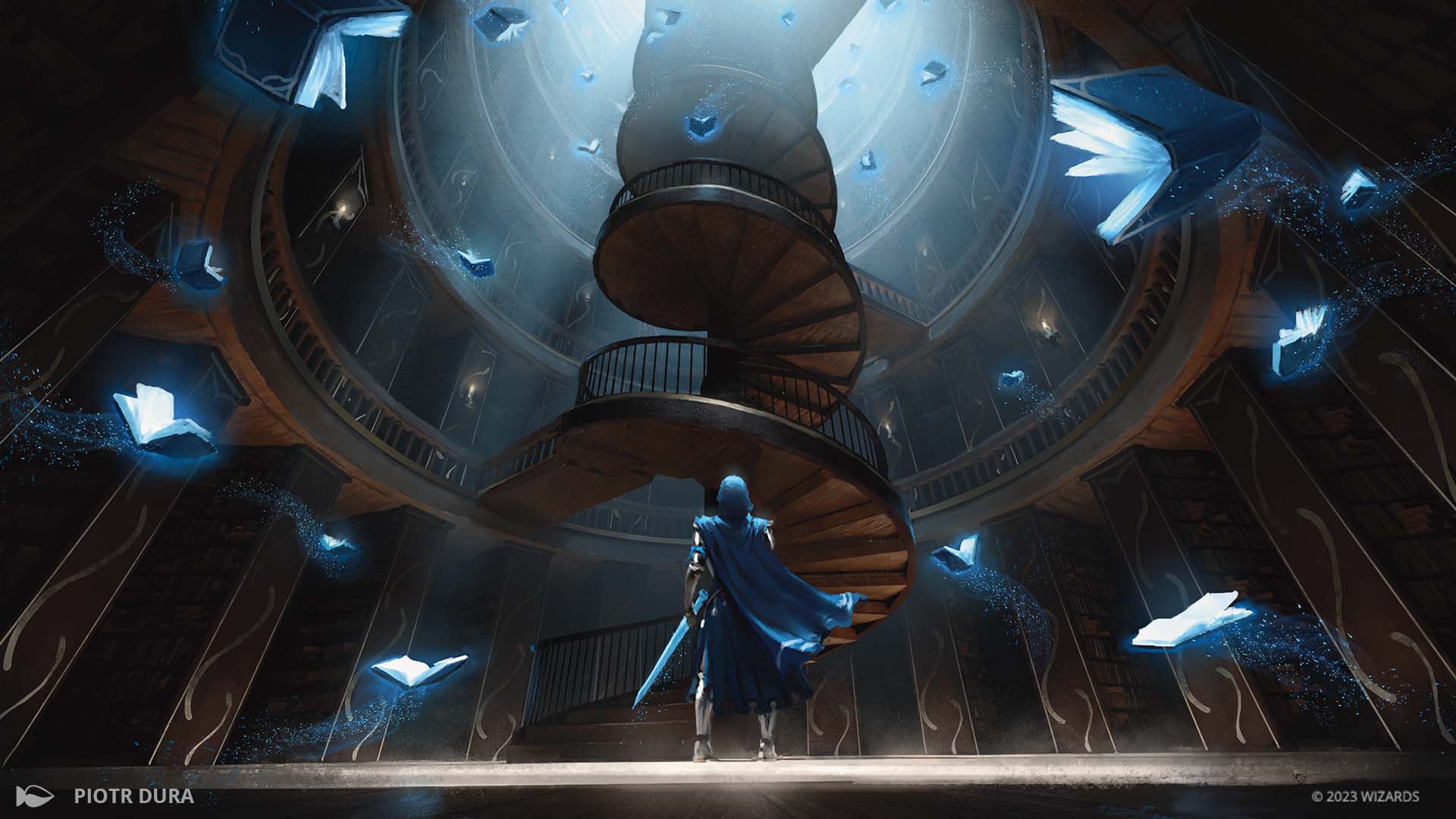 Art by:

Piotr Dura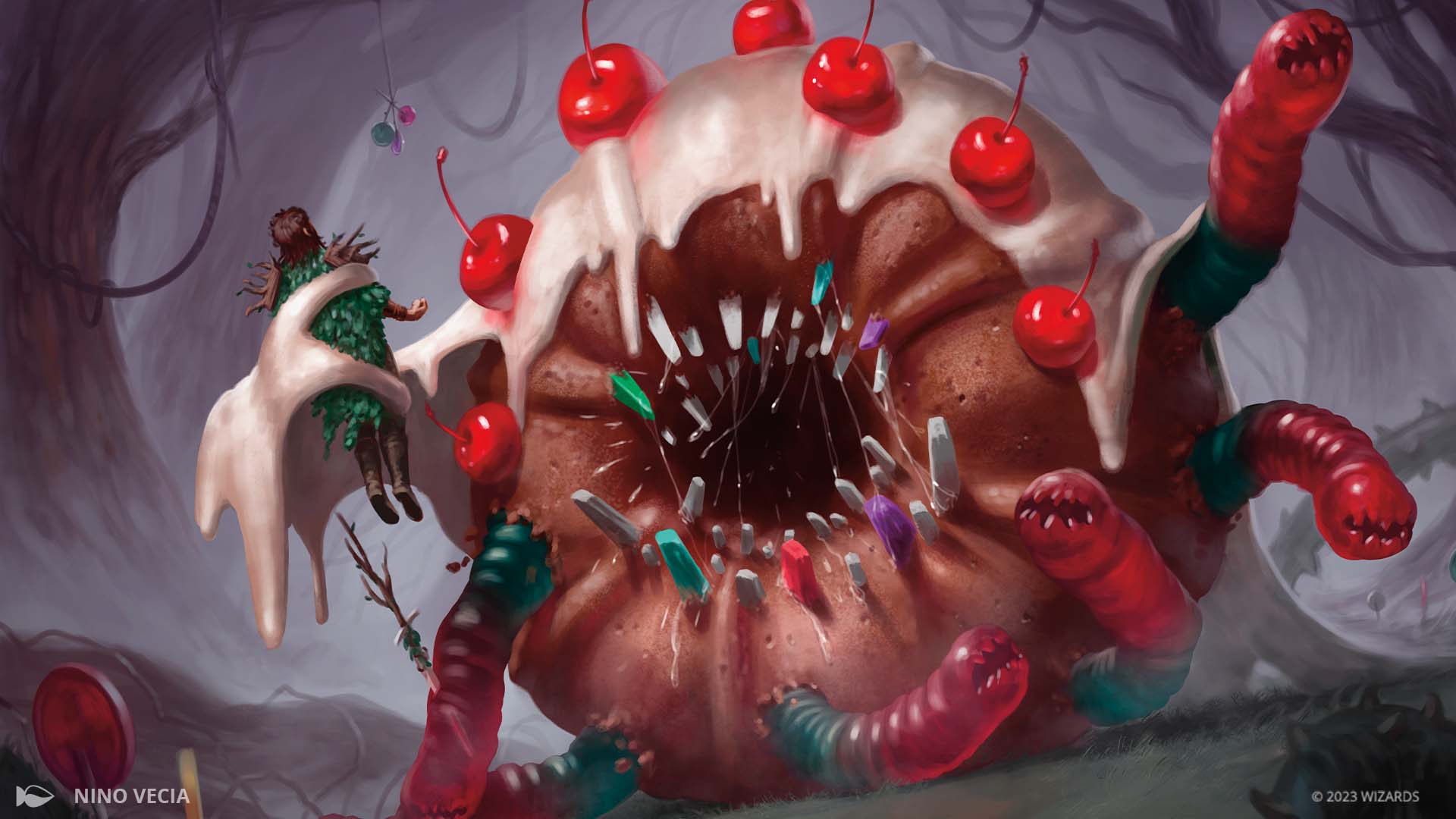 Art by

Nino Vecia
Because Eldraine is such a beloved plane, we knew we had to find the best way to capture it through Booster Fun. Wilds of Eldraine is jam-packed with borderless, showcase, and foil cards that are all inspired by folklore and fantasy. We're bringing the fun to basic lands with special showcase versions that highlight the enchanting imagery of the wilds.
Plains
Island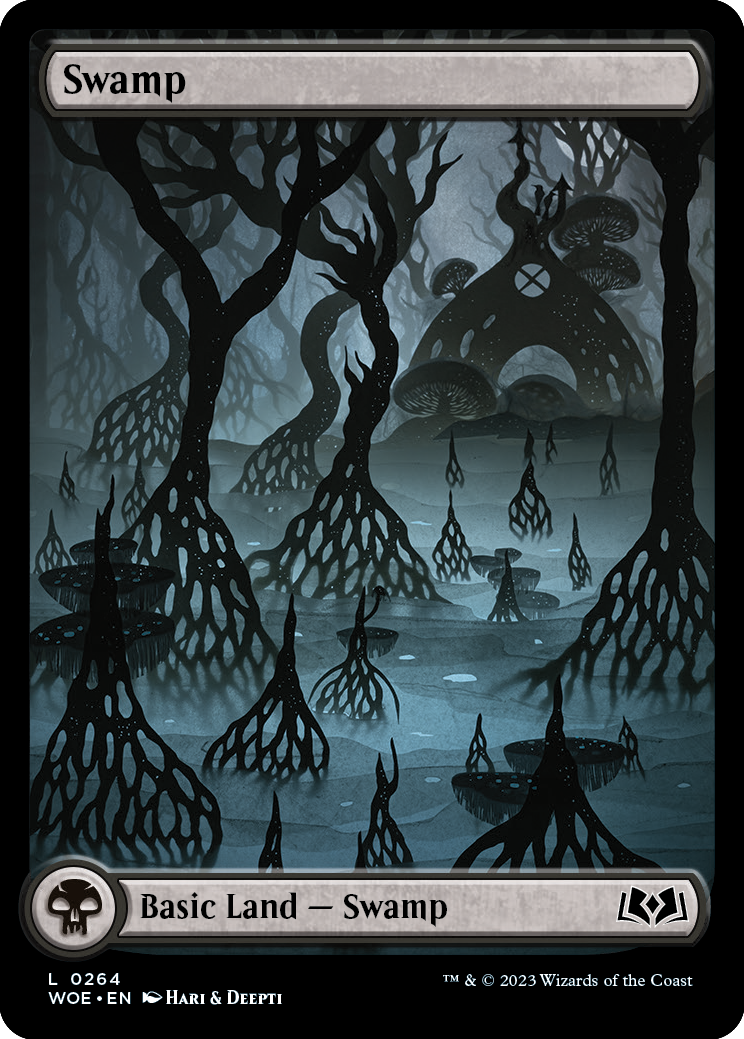 Swamp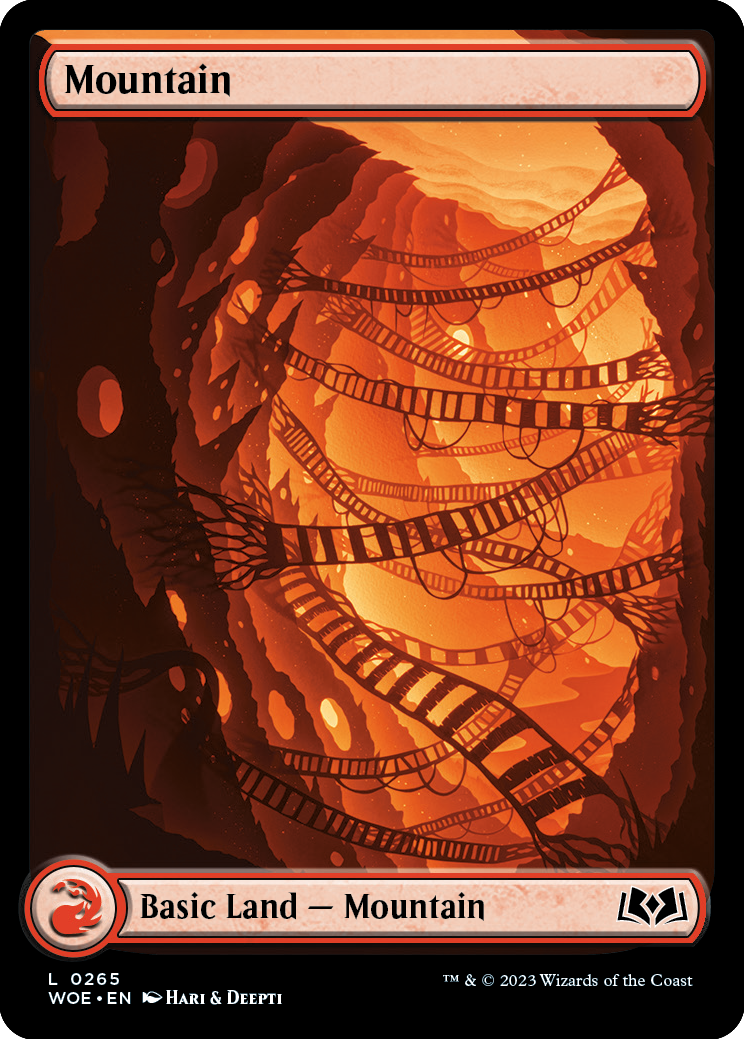 Mountain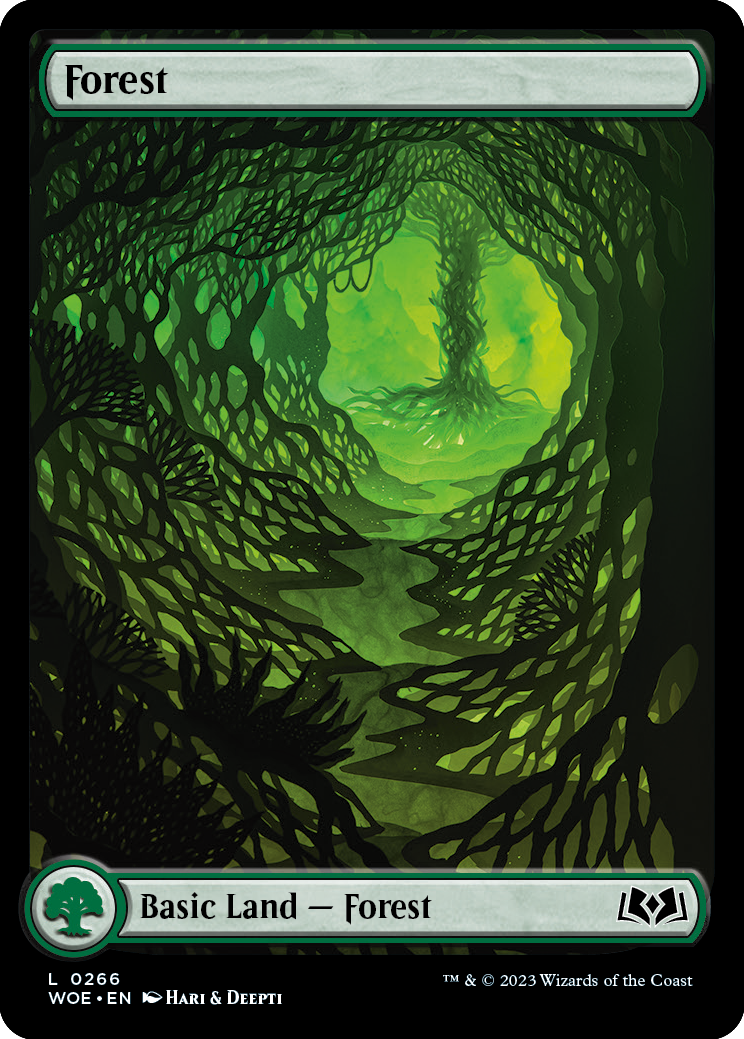 Forest
Part of the charm of fairy tales is their sense of adventure, and fans loved the storybook frame found on adventurer cards in Throne of Eldraine, so we're bringing them back with more of the stunning beauty of the wilds. Cards like Cruel Somnophage will appear in both the regular storybook frame and the showcase Adventure treatment seen below.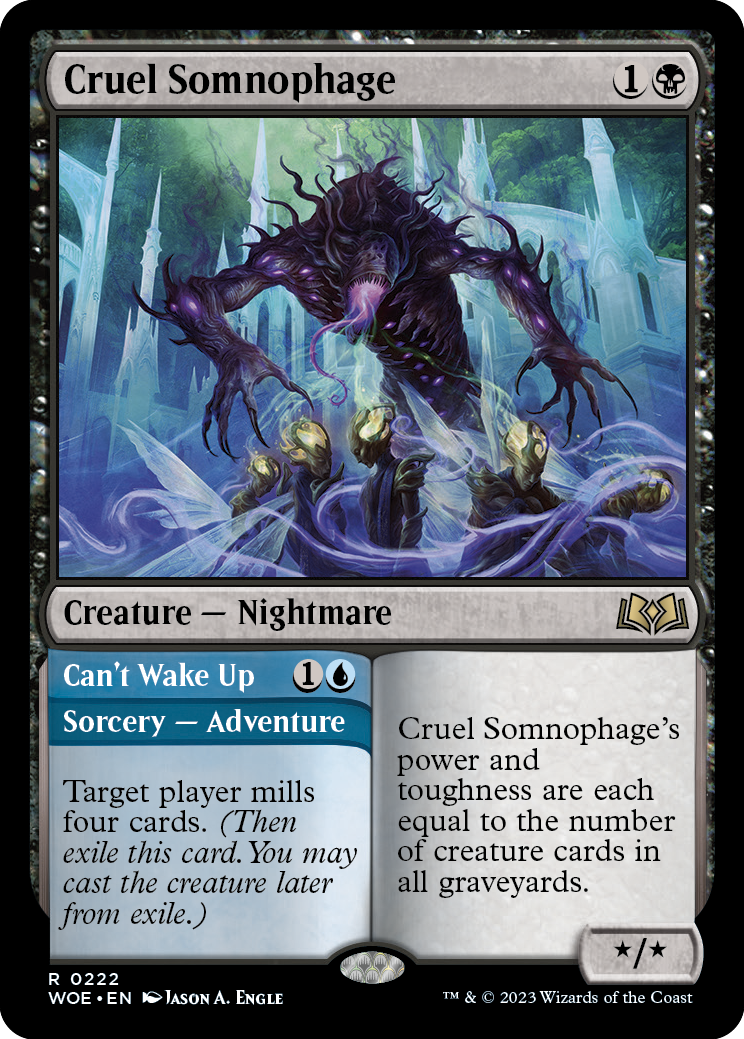 Cruel Somnophage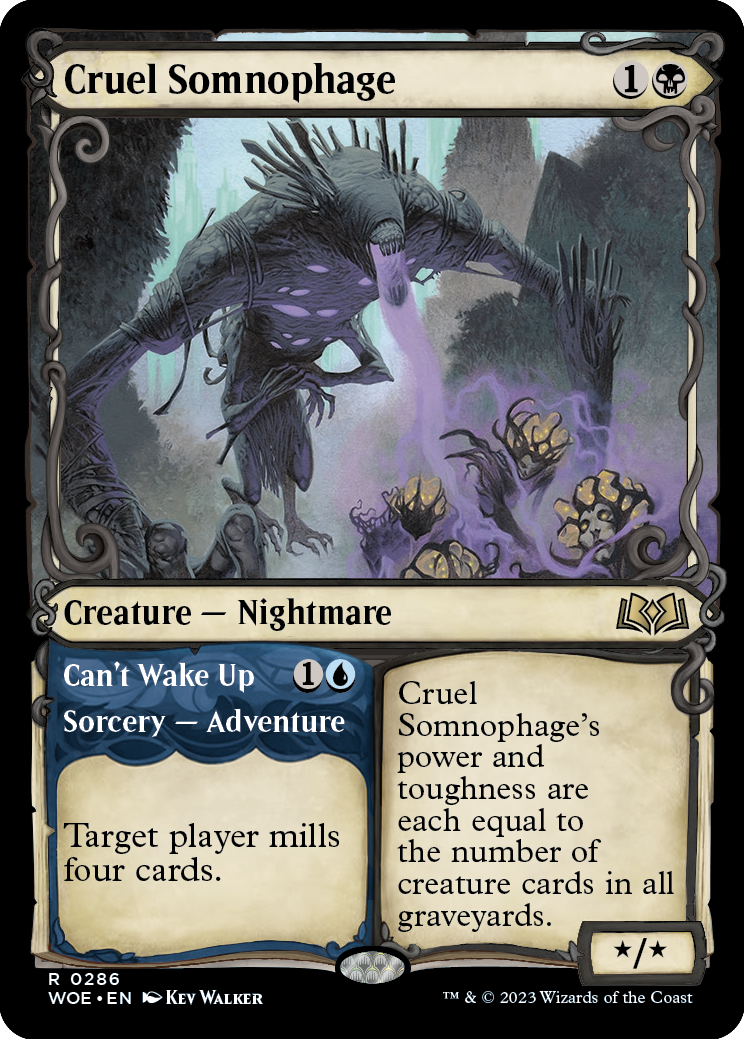 Cruel Somnophage (Showcase)
You'll also be able to find special borderless versions of Restless Fortress and Ashiok, Wicked Manipulator. These borderless cards combine enchanting artwork with haunting nightmares, perfect for Ashiok. You can also find regular and extended-art treatments for cards, like Moonshaker Cavalry, which will have a special traditional foil textless full-art promo available at a later date, all shown below.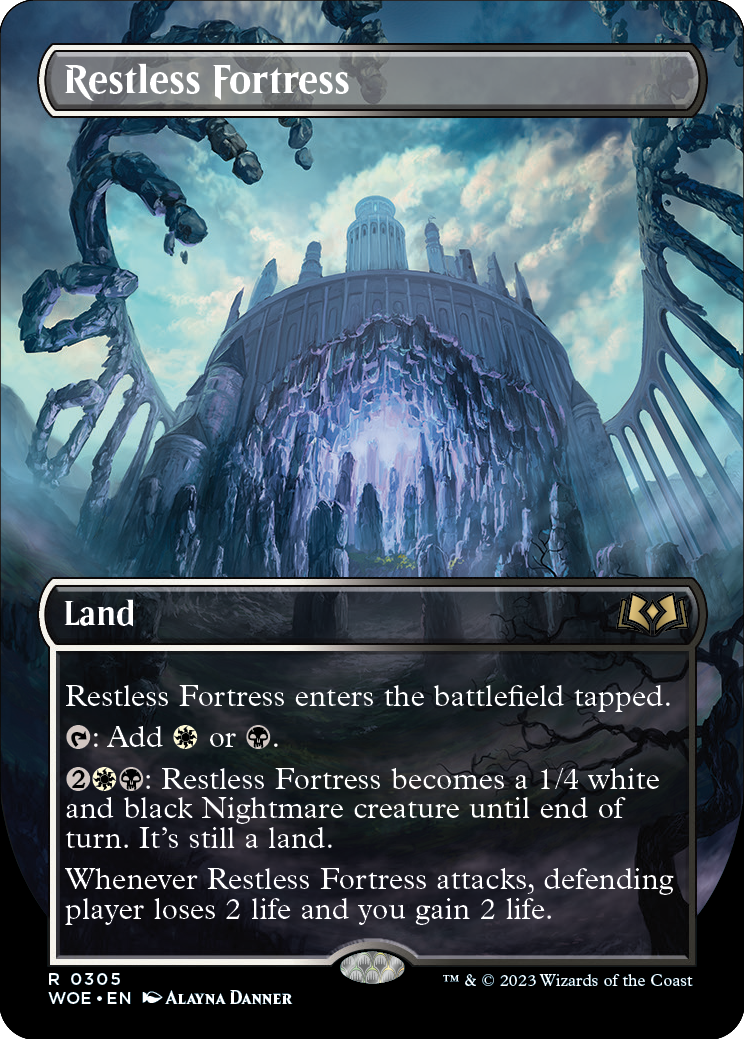 Restless Fortress (Borderless)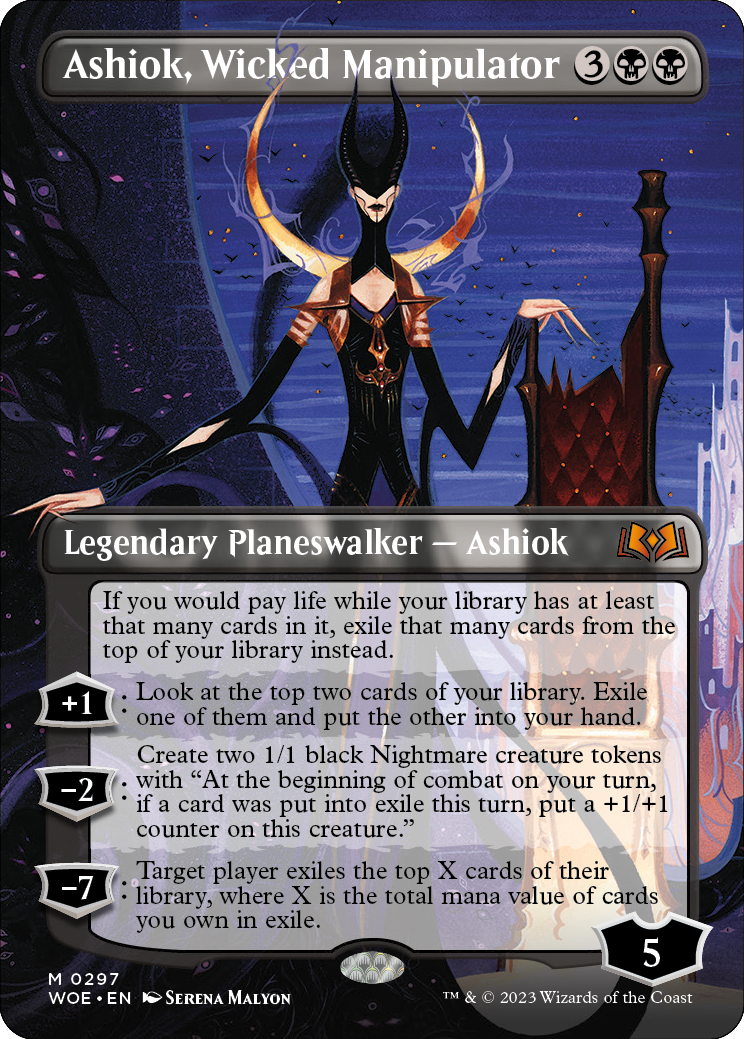 Ashiok, Wicked Manipulator (Borderless)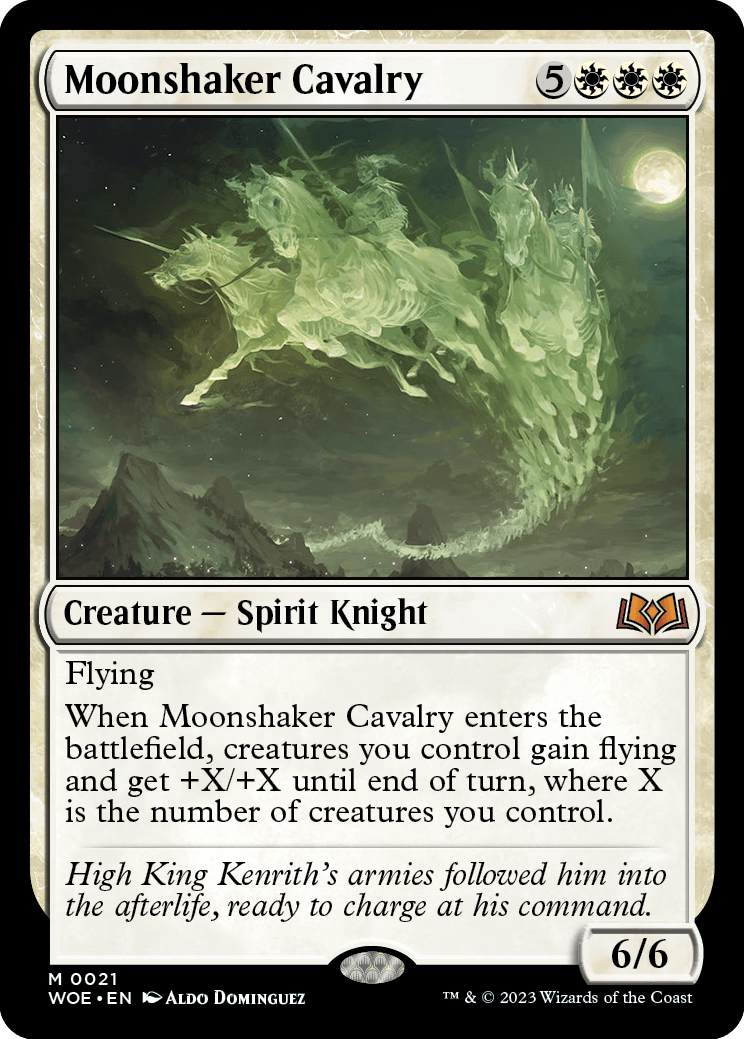 Moonshaker Cavalry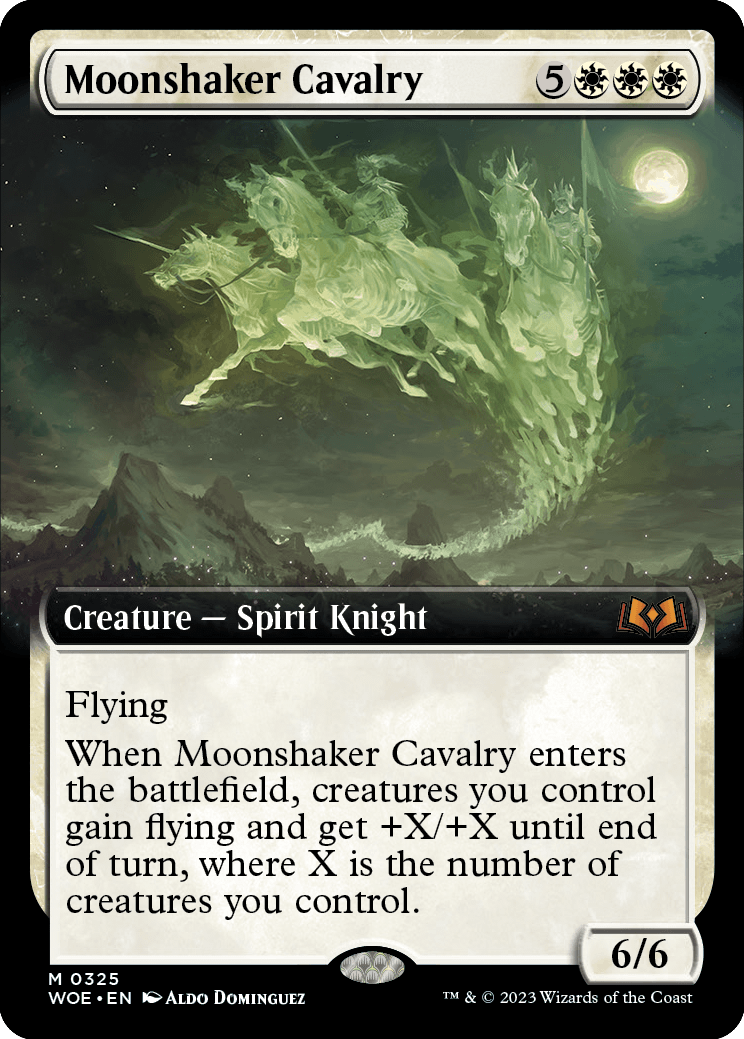 Moonshaker Cavalry (Extended Art)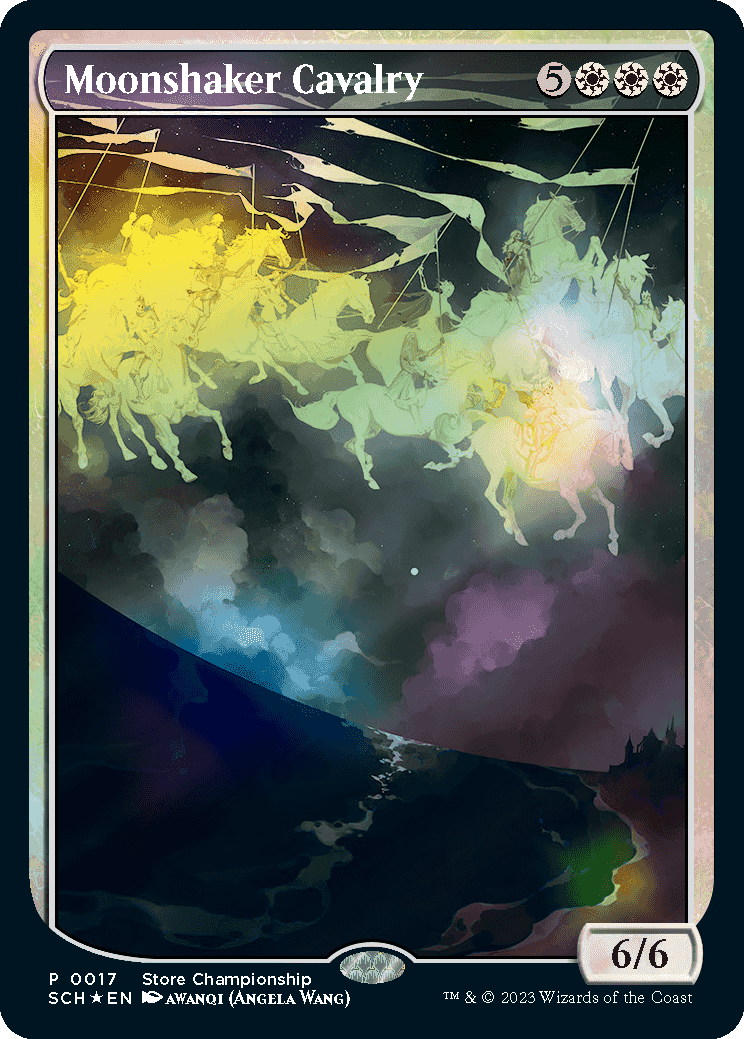 Moonshaker Cavalry (Traditional Foil Textless Full-Art Promo)
ENCHANTING TALES
With Wilds of Eldraine, we wanted to do something extra special to excite players and show off this wonderful plane. In every booster of Wilds of Eldraine, you'll find one of the Enchanting Tales cards, a non-Standard legal bonus sheet like The Brothers' War's Retro Artifacts or Strixhaven: School of Mages's Mystical Archive. Want an example of what you can find? How about Smothering Tithe?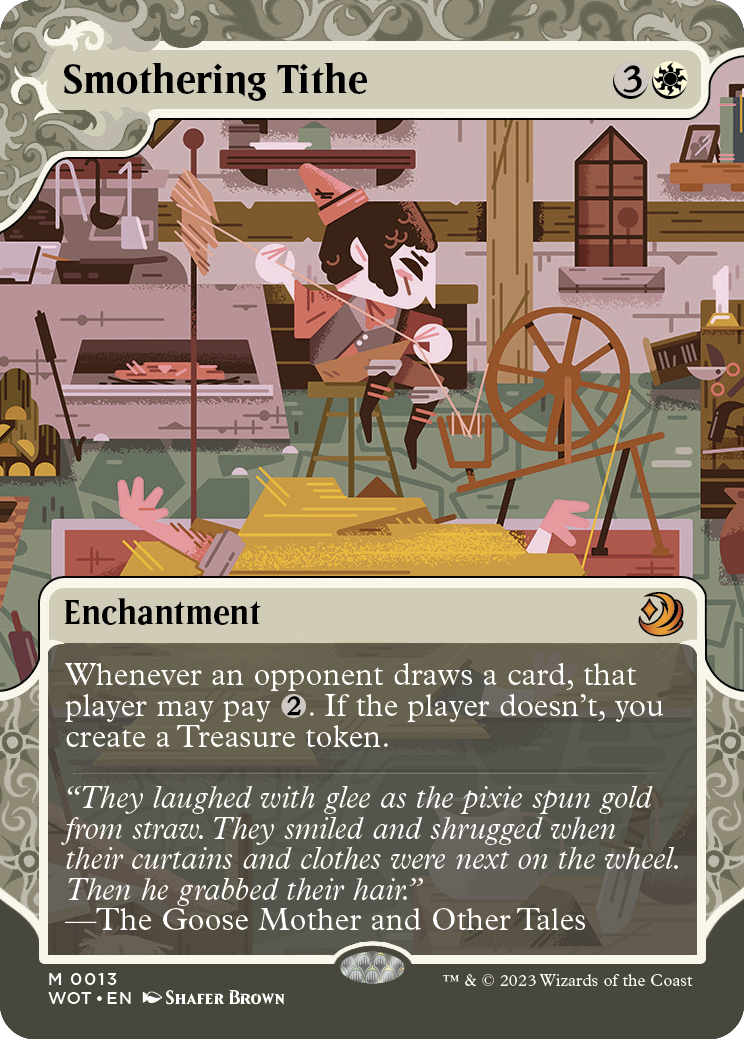 Smothering Tithe
These cards, featuring special storybook artwork, are all fan-favorite enchantments from Magic's past. The artwork of each evokes the aesthetics of Eldraine. With 63 different Enchanting Tales available, you can look forward to drafting, collecting, and playing with these exciting enchantments.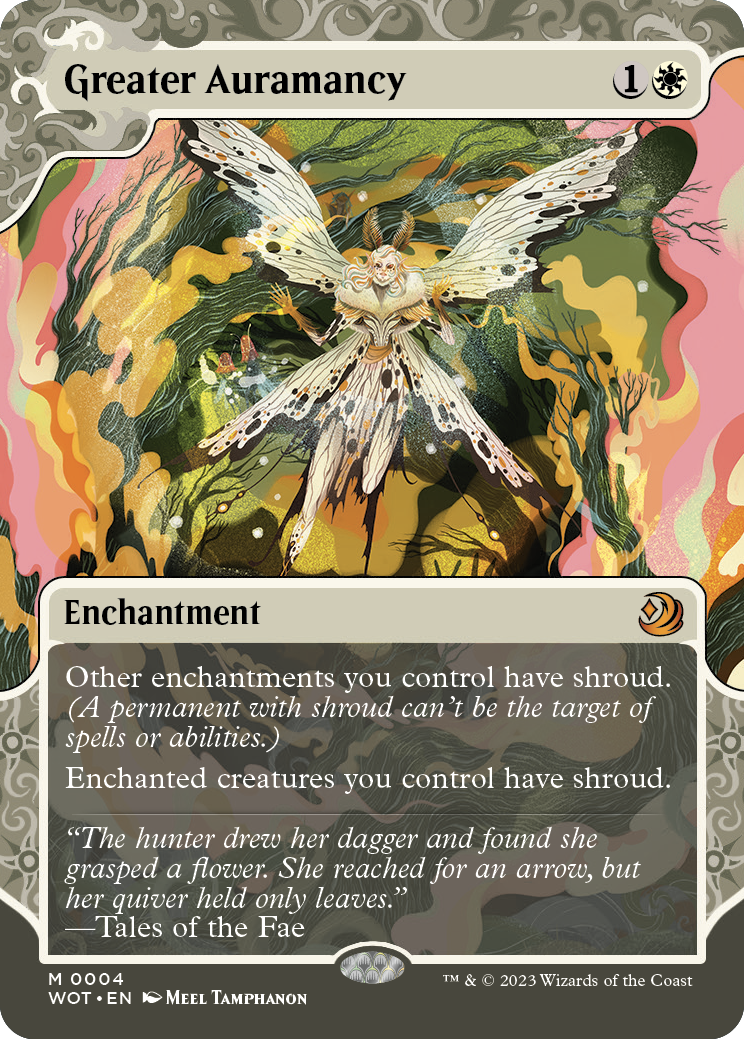 Greater Auramancy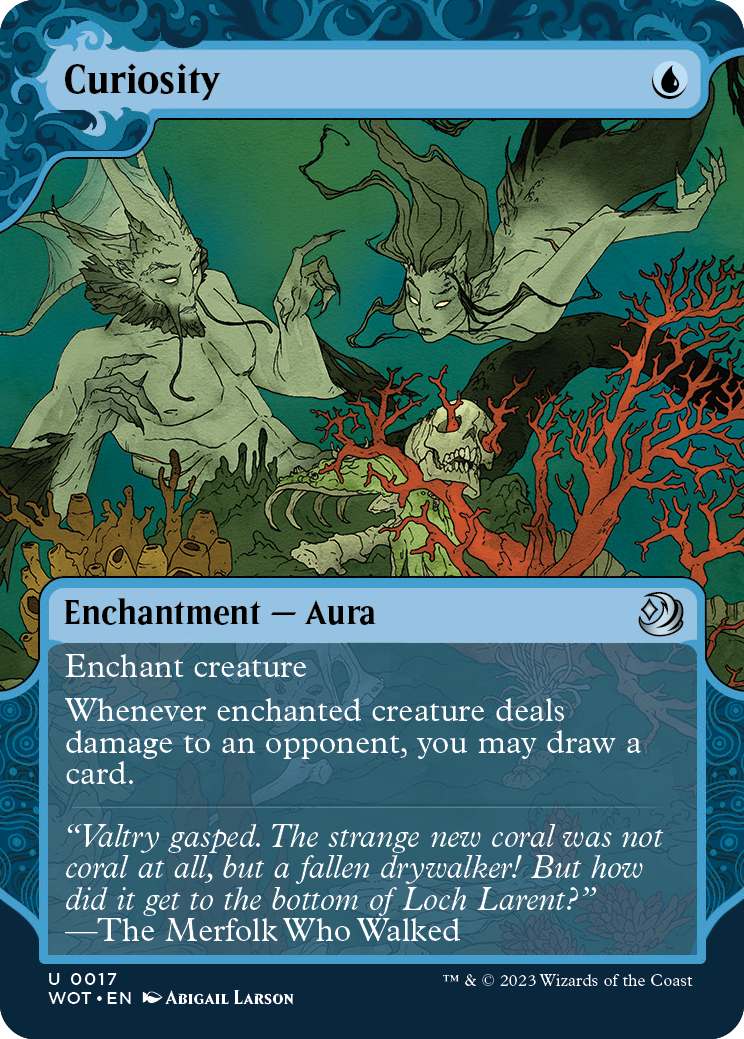 Curiosity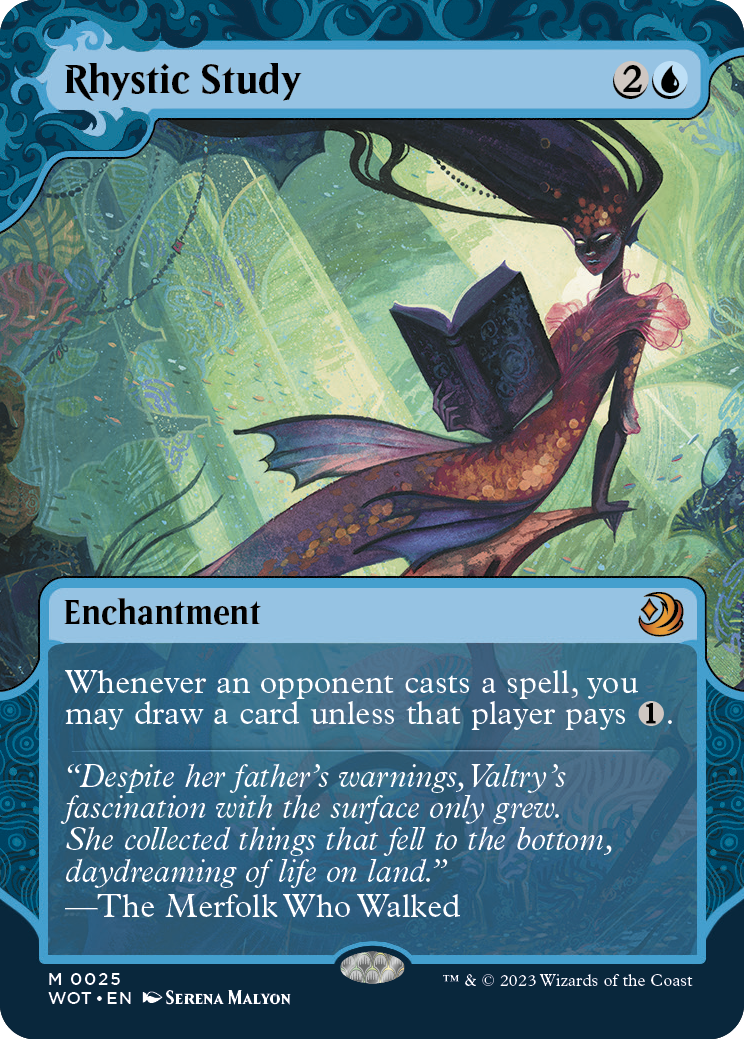 Rhystic Study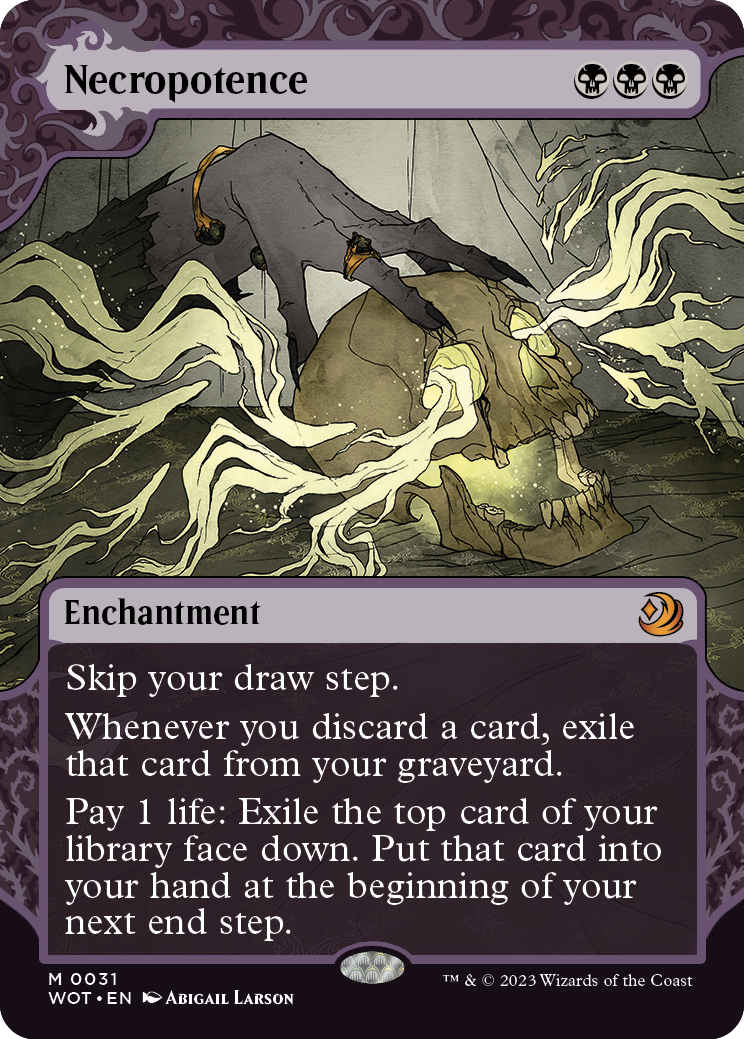 Necropotence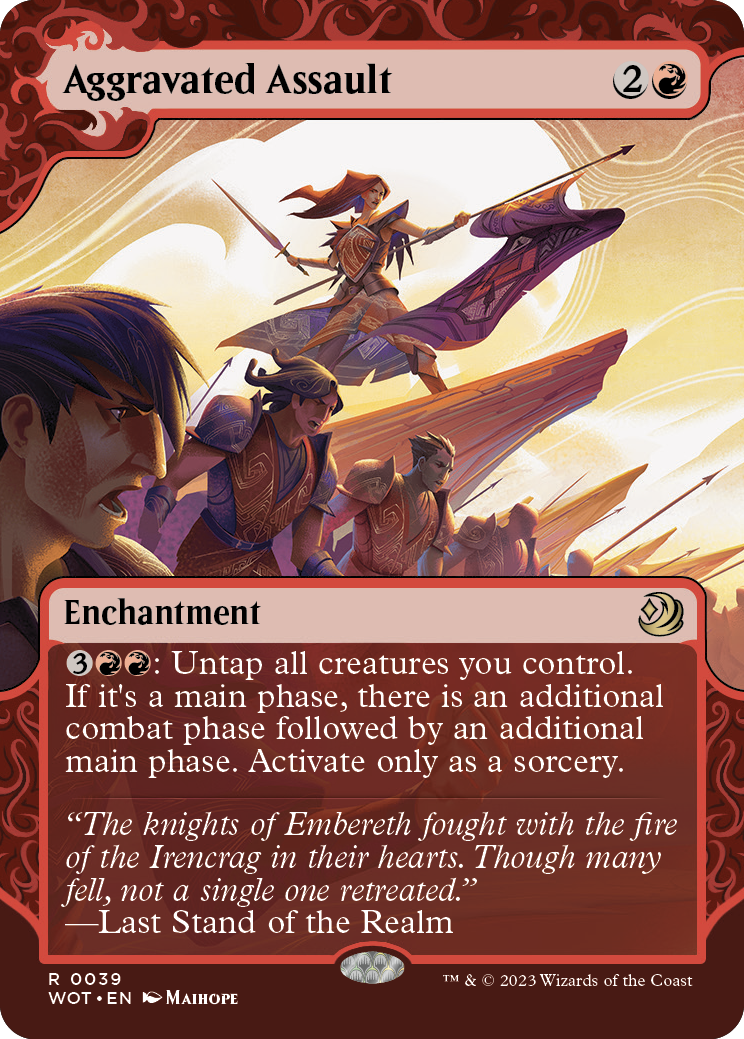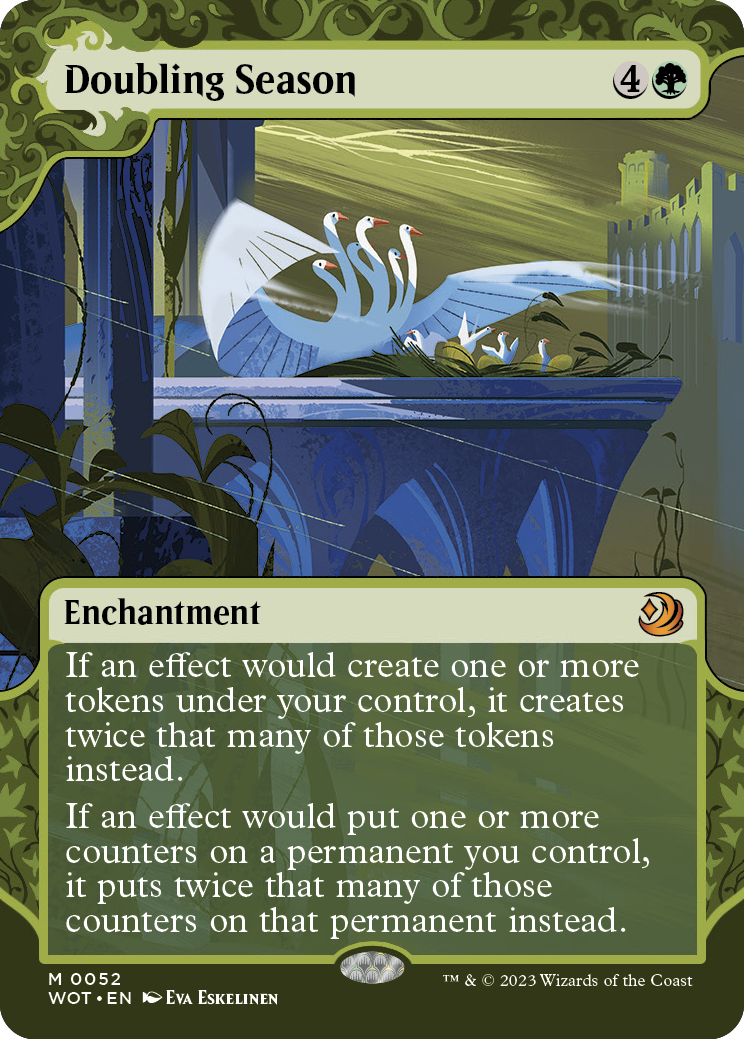 Doubling Season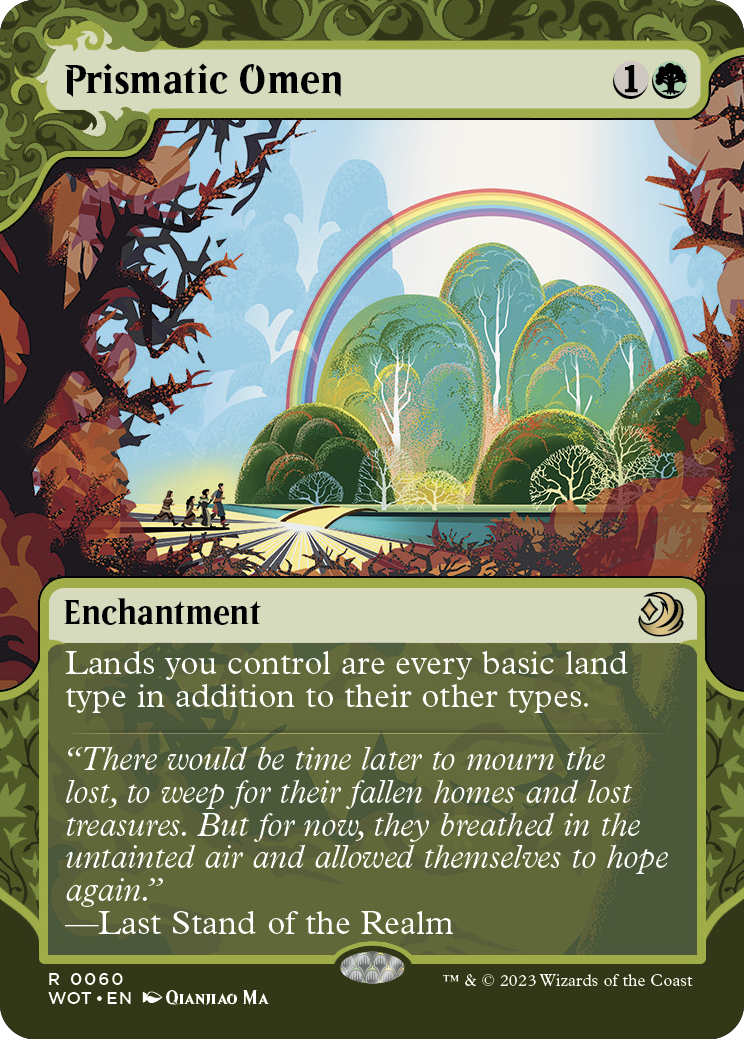 Prismatic Omen
That's just the start of what to expect—we'll share even more during the Wilds of Eldraine debut on August 15!
BOOSTERS, COMMANDER DECKS, AND MORE
When Wilds of Eldraine releases, there's plenty of ways to join in on the fairy-tale fun. Wilds of Eldraine Draft Boosters, Set Boosters, and Collector Boosters are all available to preorder now. Whether you're a Friday night drafter or a showcase art collector, there are plenty of ways to enjoy Wilds of Eldraine.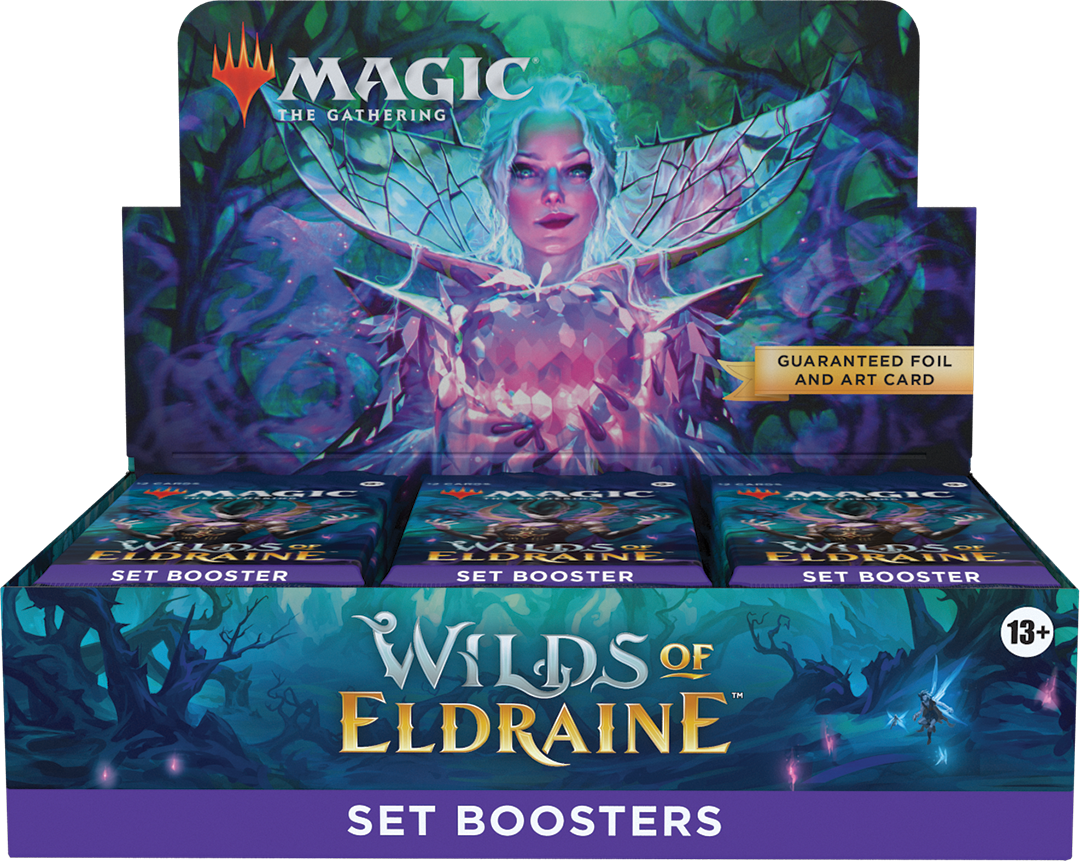 Wilds of Eldraine Set Booster Display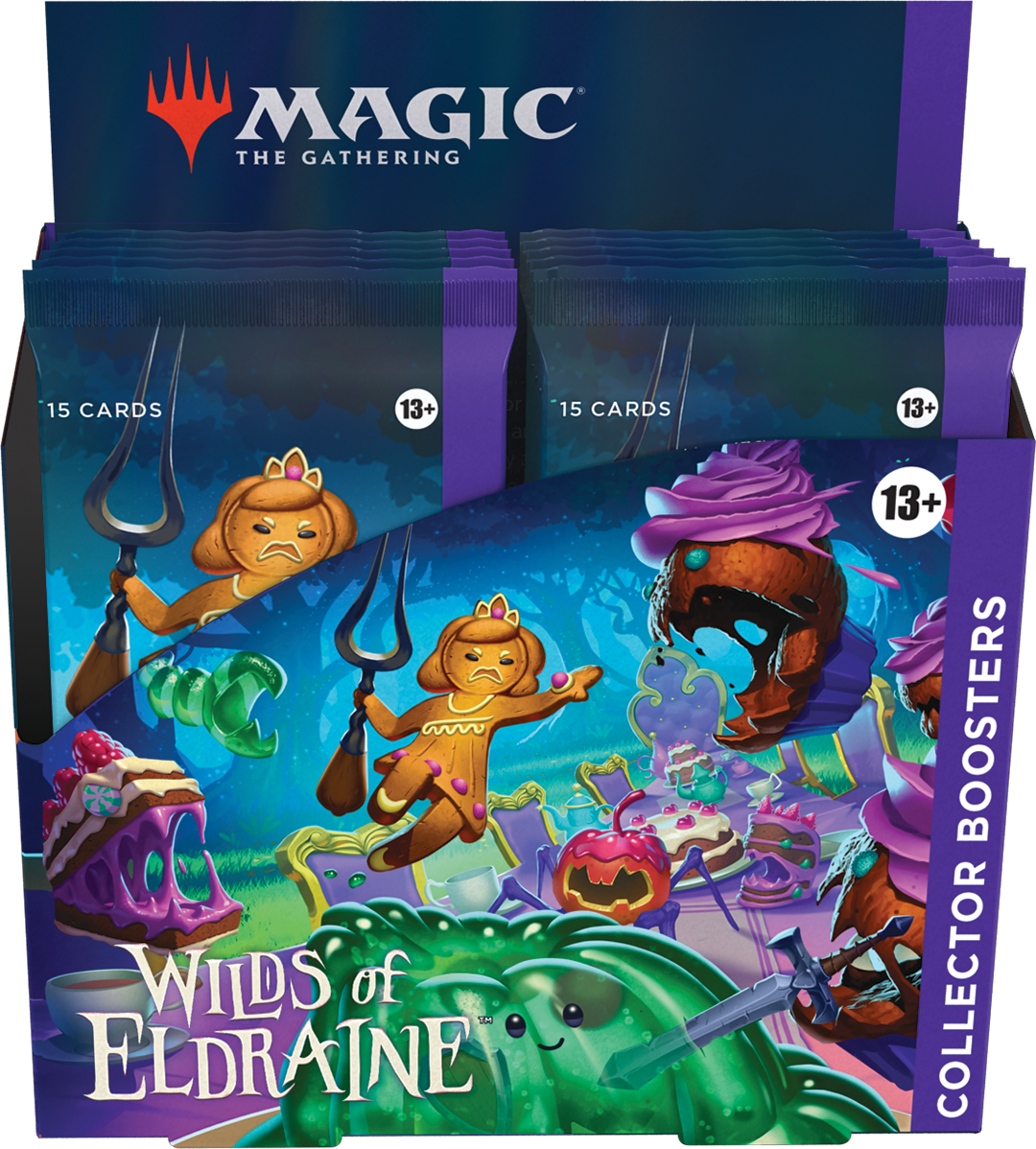 Wilds of Eldraine Collector Booster Display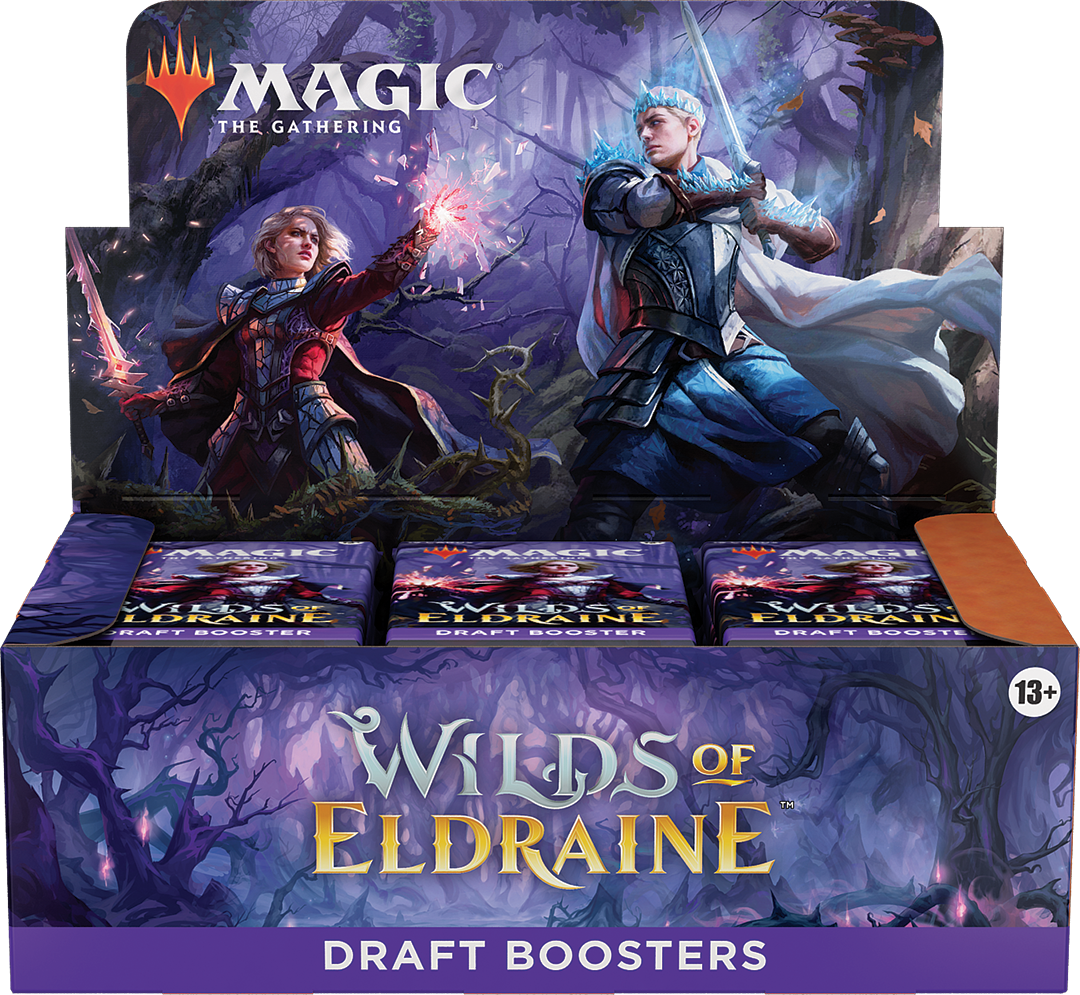 Wilds of Eldraine Draft Booster Display
There will also be two Wilds of Eldraine–themed Commander decks available, each with a unique 100-card Commander deck! These feature ten new-to-Magic cards, two legendary foil cards, and a Collector Booster Sample Pack. These decks, Fae Dominion and Virtue and Valor, release alongside Wilds of Eldraine on September 8, 2023.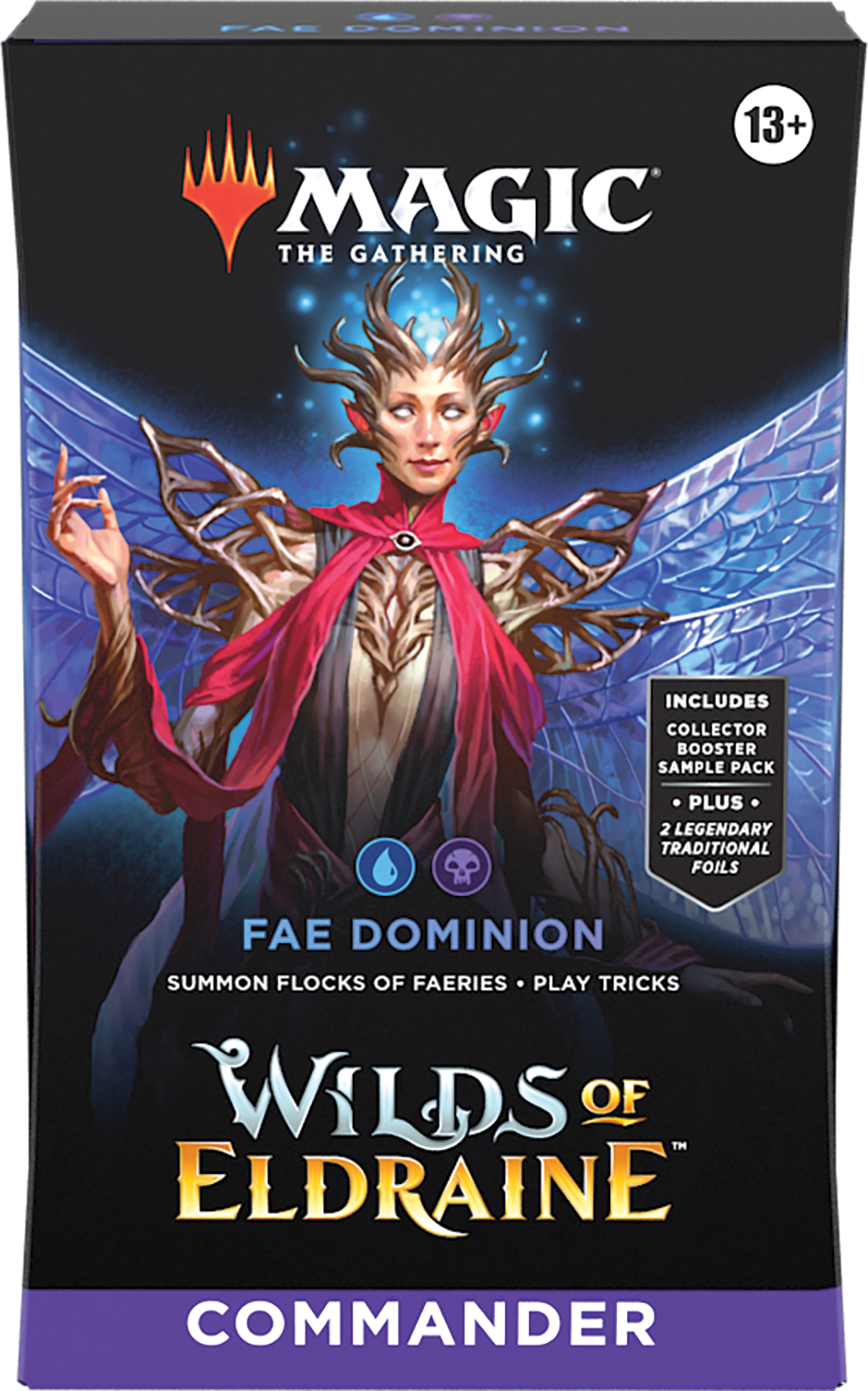 Fae Dominion (Blue-Black)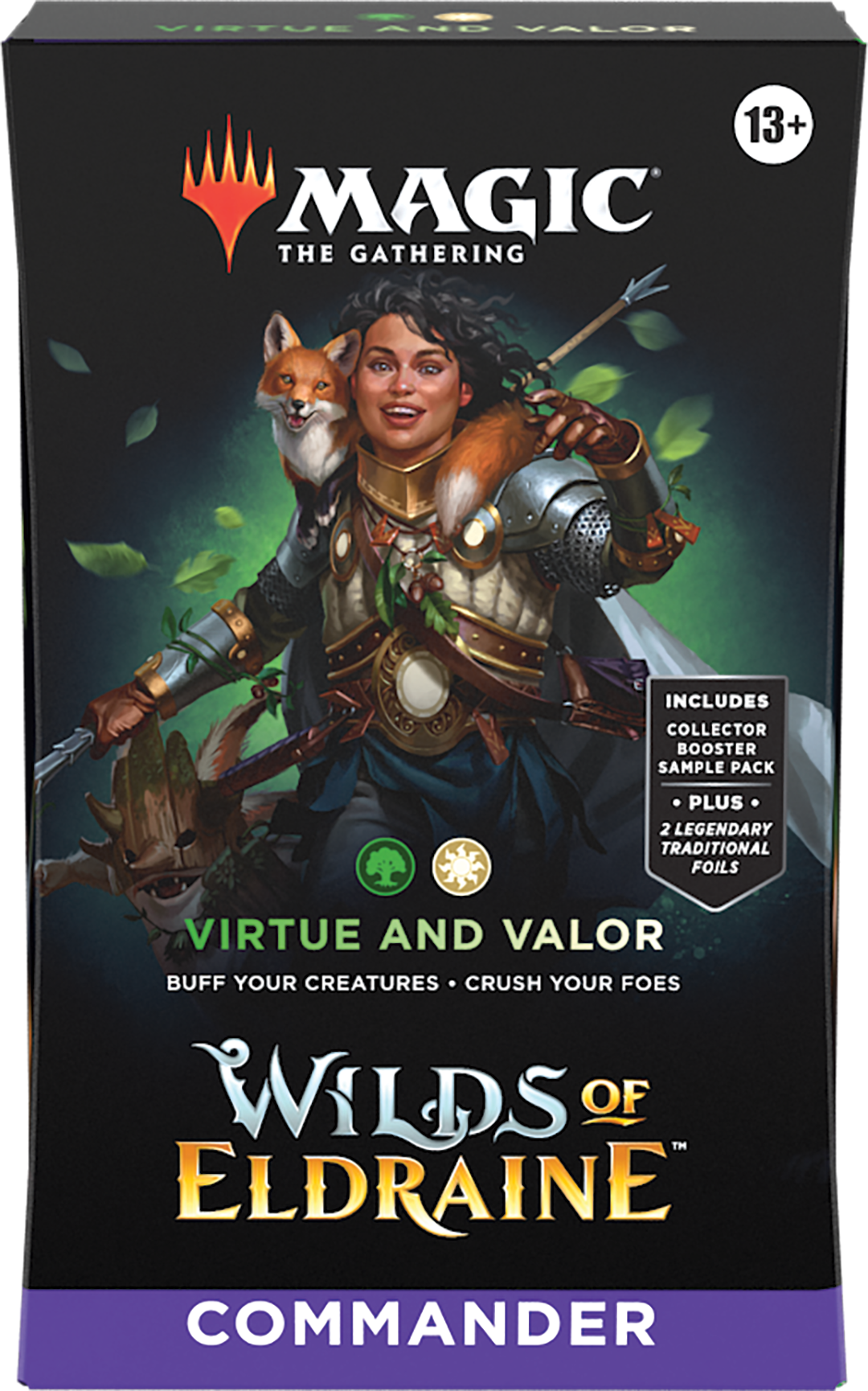 Virtue and Valor (Green-White)